Climate Technology Centre and Network (CTCN)
Overview of the Climate Technology Centre and Network (CTCN)
Background
Within the UN Climate Change process, countries have confirmed the importance of enhancing technology development and transfer to developing countries.
To facilitate this, in 2010, the Conference of the Parties established the Technology Mechanism.
The Technology Mechanism consists of two bodies: the Technology Executive Committee, which is the Technology Mechanism's policy body, and the Climate Technology Centre and Network, which is the implementation body of the Technology Mechanism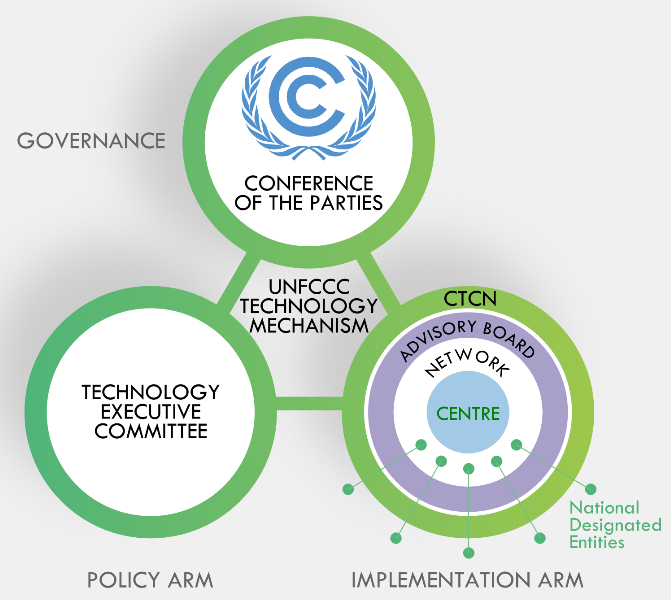 Objective
To address carriers hindering the development and transfer of climate technologies to become a catalytic force in creating an enabling environment to reduce greenhouse gas (GHG) emissions and climate vulnerability, improve local innovation capacities, and increase investment in climate technology projects
Scope of Services
The CTCN facilitates the transfer of technologies through three core services:
Providing technical assistance at the request of developing countries to accelerate the transfer of climate technologies
Creating access to information and knowledge on climate technologies
Fostering collaboration among climate technology stakeholders via the Centre's network of regional and sectoral experts from academia, the private sector, and public and research institutions.
Overview of CTCN Technical Assistance
This section details the "Technical Assistance" mentioned in (i) of the Scope of Services.
(1) Eligible applicants
Academic institutions, public organizations, non-governmental organizations, and private entities
(2) Academic institutions, public organizations, non-governmental organizations, and private entities
| Details | Details |
| --- | --- |
| Adaptation | Agriculture and Forestry, Coastal Zones, Early Warning and Environmental Assessment, Human Health, Infrastructure and Urban Planning, Marine and Fisheries, Water |
| Mitigation | Agriculture, Carbon Fixation and Abatement, Energy Efficiency, Forestry, Industry, Renewable Energy, Transport, Waste Management |
| Cross-sectoral enablers | Capacity Building and Training, Communication and Awareness, Economics and Financial, Governance and Planning |
| Cross-cutting approaches | Community-based, Disaster Risk Reduction, Ecosystems and Biodiversity, Gender |
(3) Types of Technical Support
The CTCN delivers five main types of technical support on climate technologies:
Technical assessments including technical expertise and recommendations related to specific technology needs; identification of technologies, technology barriers, technology efficiency; and piloting and deployment of technologies
Technical support for policy and planning documents including strategies and policies, roadmaps and action plans, and regulations and legal measures
Training
Tools and methodologies
Implementation plans
(4) Categorization of Request
Response Project:Refers to an activity for which the cost would be more than USD 50,000 and as much as approximately USD 250,000.
Quick Response:Refers to an activity for which the cost can be as much as approximately USD 50,000.
Apply for CTCN Technical Assistance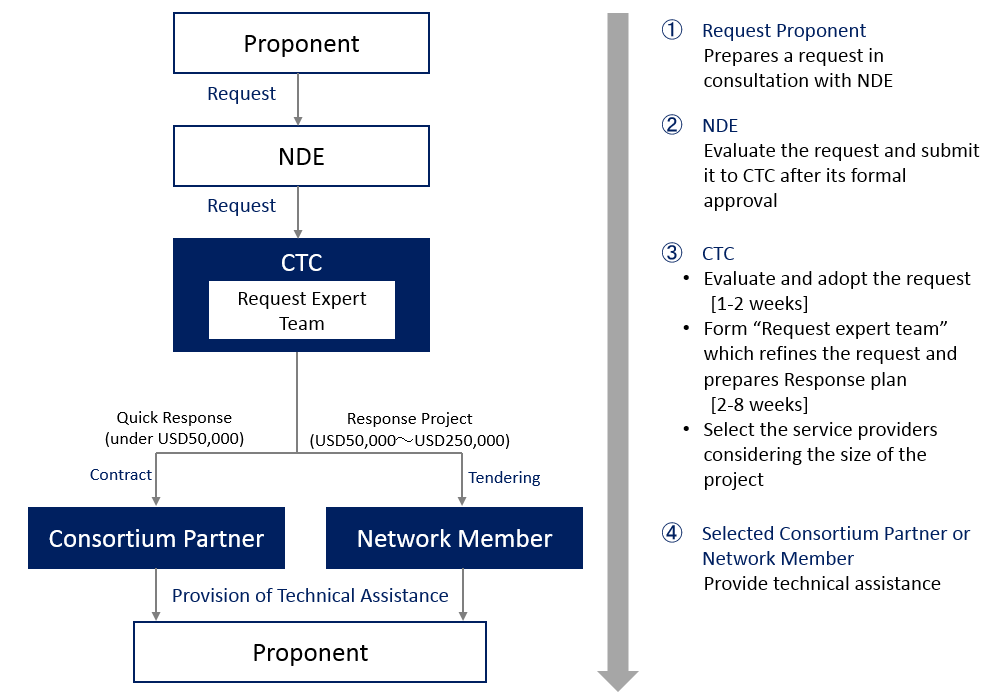 Organization
Summary
①
Proponent

A proponent is an organization that makes a technical request to the CTC, such as academic institutions, public organizations, non-governmental organizations, and private entities in developing countries
A proponent prepares a technical request with the National Designated Entity (NDE).

②
National Designated Entity (NDE)

An NDE is a focal point in each developing country to communicate with the CTC.
An NDE facilitates CTCN support by supporting the articulation and prioritization of requests and proposals and managing the national submission process of technical assistance requests to the CTCN.

③
Climate Technology Center (CTC)

The CTC is secretariat co-managed by UNEP and UNIDO.
The CTC assesses a technical request, makes a decision of support, forms a Request Expert Team, prepares a Response Plan with the Request Expert Team, and selects service providers for technical assistance.

④
Consortium Partner

A Consortium Partner is an organization that supports the operation of CTC (11 organizations).
It may join the Request Expert Team established at the CTC and support the preparation of the Response Plan.
It provides technical assistance, which is a Quick Response, for less than USD 50,000.
List of Consortium Partners:
https://www.ctc-n.org/about-ctcn/consortium-partners

Network Member

A Network Member is an entity accredited by the CTC, such as academic institutions, financial institutions, non-governmental organizations, private entities, public organizations, and research institutions
It provides technical assistance, which is the Response Project, which costs between USD 50,000 and USD 250,000.
Currently, there are more than 400 Network Members.
List of Network Members:
https://www.ctc-n.org/network/network-members
CTCN Prioritization Criteria
The prioritization criteria for responding to requests from developing country Parties are as follows.
Guiding principles
1.
The support provided will contribute to increased resilience and/or mitigate emissions, and is aligned with national plans.
This principle ensures that:


The request submitted to the CTCN has a clear and positive benefit to the requesting country in mitigating or adapting to the negative effect of climate change.
The request is aligned with national plans or strategies (e.g., National Development Plan, Poverty Reduction Strategy, Sustainable Development Strategy, Climate Change Strategy, Technology Action Plan). The step-by-step method and process of defining, developing, and outlining various possible courses of action to meet existing or future needs, goals, and objectives for a country should be considered.

2.
The support will enhance endogenous capacities.
This principle ensures that the (human, institutional, technological) capacity enhanced with the support of the CTCN is originating, developing, or proceeding from within the requesting country considering its national circumstances.
3.
Processes are in place in the requesting country to monitor and evaluate any support provided (that is, project accountability is ensured).
This principle guarantees that project accountability is ensured by the country through effective monitoring of project implementation and impacts (environmental, social, and economic). Monitoring and evaluation processes should ensure that the transfer of technology is successful in the country beyond sole response delivery.
Balancing principles
With the aim of achieving a balanced and equitable portfolio, the CTC Director shall ensure that requests are prioritized that bring about:
1.
Inter and intra-regional equity with a preference for requests submitted by Least developed countries (LDCs) and other highly vulnerable and low capacity countries
2.
Balanced technological-related activities covering both adaptation and mitigation
3.
Balanced technological-related activities spanning the technology cycle
Prioritization criteria (project specific and in no specific order)
To determine which requests to support, the CTC Director shall prioritize projects that:
1.
Promote endogenous and the most appropriate technologies and processes
2.
Demonstrate "project readiness" and the potential for replication or scaling up nationally, regionally, and internationally
3.
Promote collaboration between stakeholders including between countries, and having elements of South-South, bilateral, or multilateral cooperation
4.
Promote multi-country approaches and the regional bundling of requests
5.
Leverage public and/or private financing
6.
Promote and demonstrate multiple benefits as well as social, economic, and environmental sustainability
7.
Promote and demonstrate gender equality and the empowerment of vulnerable groups including women and the youth
CTCN Technical Assistance Request Forms
Technical Assistance Request List
Reference
CTCN Operation Manual for National Designated Entities (NDEs) Version 1.2 April 2015
Website of CTCN and UNFCCC
Approved CTCN projects list