OUR GOAL
AP-PLAT is a web-based information platform for national and local policymakers, researchers, businesses, and individuals seeking practical, up-to-date information on climate change adaptation and relevant science. The goal of AP-PLAT is to contribute to the sustainability and resilience of the Asia-Pacific region by informing decisions and supporting adaptation actions.
WHAT WE DO
AP-PLAT activities cover three core areas as described below. In each area, AP-PLAT works with partners for joint research implementation and the co-creation of knowledge products.
1. Scientific information and knowledge creation
Generating global and regional scientific climate-related risk data and information.
Integrating existing data, information, and knowledge on climate-related risks to provide customized information.
2. Tool development
Making scientific knowledge accessible and visually appealing to everyone.
Developing and co-creating regional climate-related risk information infrastructure.
Presenting relevant adaptation-related good practices.
3. Capacity development
Providing training for adaptation policy development and project formation.
Providing training to practitioners on the utilization of scientific knowledge and tools.
Creating capacity building material.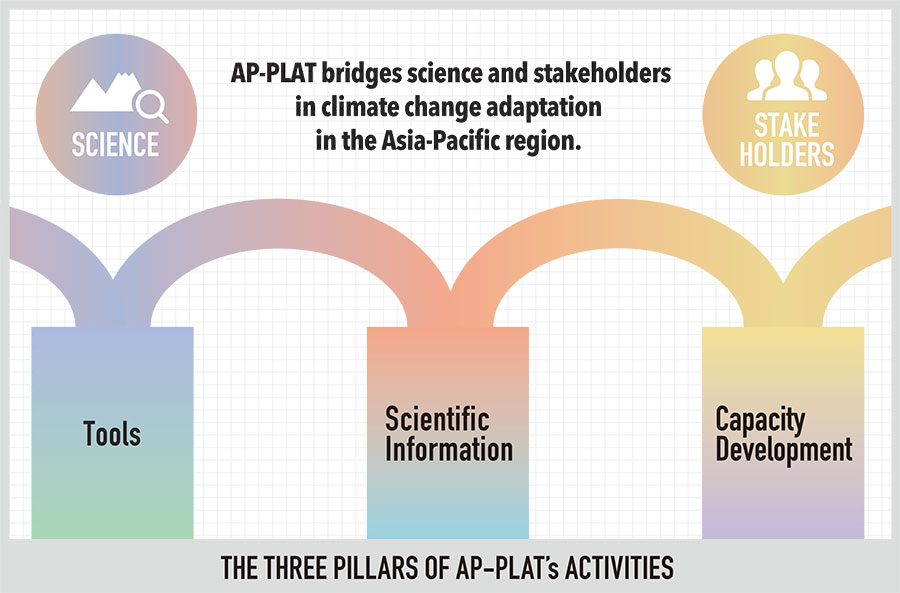 HISTORY
2016

At COP22 in 2016, the Ministry of the Environment, Japan (MOEJ), announced its plan to establish AP-PLAT by 2020.

2018

The Climate Change Adaptation Act of Japan was effective in December 2018. It stipulates that Japan should develop an international system for sharing information on climate change and endeavor to develop international cooperation, including technical cooperation, for developing areas for climate change adaptation. These international activities are implemented through AP-PLAT.

2019

The AP-PLAT launching ceremony was held in June 2019 by the MOEJ during the G20 Ministerial Meeting on Energy Transitions and Global Environment for Sustainable Growth held under Japan's presidency of G20.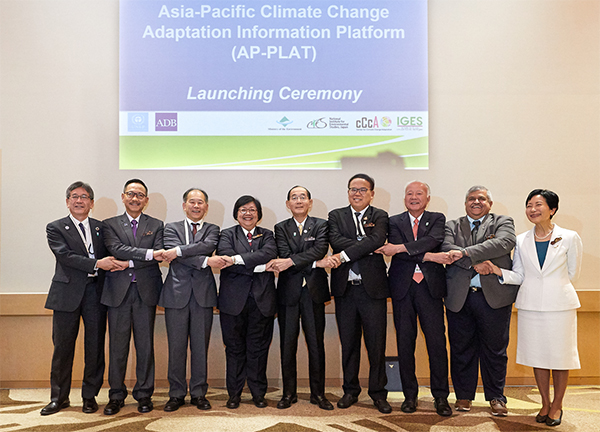 AP-PLAT SECRETARIAT
The AP-PLAT website and activities are managed by the CCCA at the National Institute for Environmental Studies of Japan.
The CCCA conducts strategic research on the adaptation measures through observational research and monitoring of climate change impacts, and provides technical advice to local authorities and regional climate change adaptation centers in Japan and the broader Asia-Pacific region. In addition to AP-PLAT, CCCA also manages the Climate Change Adaptation Information Platform (A-PLAT) that was launched in August 2016 with an aim to support users in Japan in their adaptation-related activities.
OUR PARTNERS
AP-PLAT is always exploring potential partnerships with similar climate adaptation platforms, research institutes, and government agencies. We aim to enable informed decision-making and adaptation actions through collaborative efforts to create and communicate practical scientific knowledge and tools.