AP-PLAT capacity development programme: Development of Local Guidebook on Compound and Cascading Disaster Risk Management (CCDRM) in Nepal
Date
9 December 2022
Venue
Hotel Melamchi Heritage, Melamchi Bazar
Language
Nepali
Session title
Guidebook Co-Development Workshop on Compound and Cascading Disaster Risk Management in Nepal
Agenda
Concept and agenda of Guidebook Co-Development Workshop on Compound and Cascading Disaster Risk Management in Nepal
Organizer
Ministry of the Environment, Japan
Melamchi Municipality
National Disaster Risk Reduction and Management Authority, Nepal (NDRRMA)
Institute for Global Environmental Strategies (IGES)
Center of Research for Environment Energy and Water (CREEW)
Practical Action
Center for Water Resources Studies Institute of Engineering, Tribhuvan University (CWRS, IoE, TU).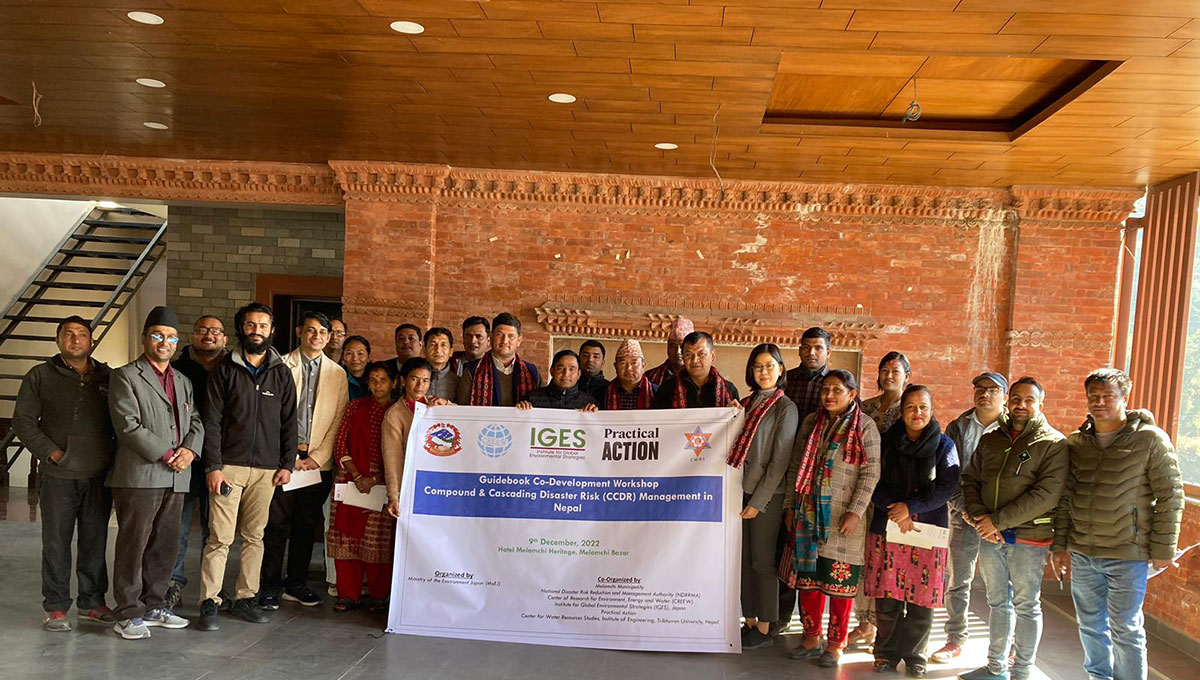 Institute for Global Environmental Strategies (IGES), with the support from Ministry of the Environment Japan (MOEJ), has launched the project for developing the localized guidebook to address complex climate risks, based on the AP-PLAT's capacity development e-learning course on Compound and Cascading Disaster Risks Management (CCDRM). As a part of that initiative, "Guidebook co-development workshop on CCDRM Management in Nepal" was organized at Melamchi, Nepal during 8-9 December, 2022.
Introduce the concept of CCDRM using AP-PLAT E-learning tool
Understand community vulnerability and capacity gaps with regards to CCDRM
Introduce and gather direct inputs and feedback on the proposed guidebook in terms of its content, practicality, and target beneficiaries
Follow-up actions and support needed for the promotion and wider adoption of the guideline
Thirty-five (35) participants covering a wide range of stakeholders from Melamchi Watershed municipalities (local government, flood-affected communities, local groups/CBOs, actors, vulnerable sectors, media), invited experts/facilitators from different organizations in Kathmandu, etc. participated actively in the workshop. Eight out of 35 participants were female.
Key Discussion
The workshop started with an opening session, in which Mr. Aaita Man Tamang, Mayor of Melamchi Municipality delivered a welcome address. The opening session was followed by a technical session for setting the scene. In that session three presentations were made, one from Dr. Binaya Raj Shivakoti on overall framing of the study, including introduction of AP-PLAT. It was then followed by sharing of international learning/experience on CCDR by Nagisa Shiiba, and Learnings from Melamchi disaster by Prof. Vishnu Prasad Pandey.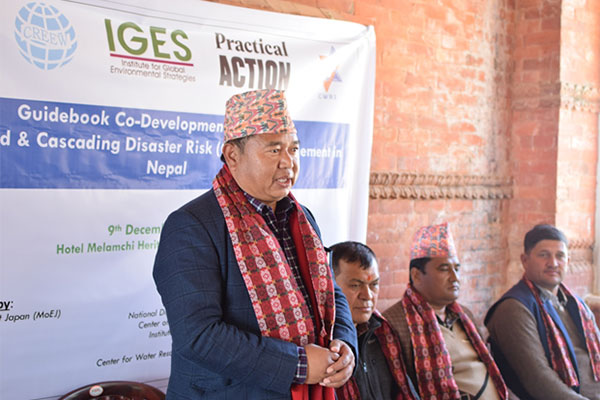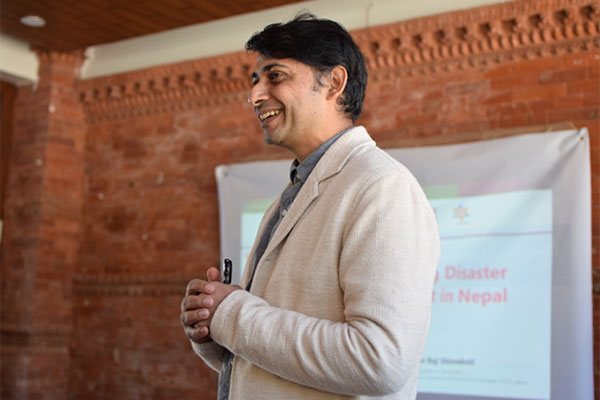 Key discussions are summarized hereunder;
After the devastating flood in Melamchi river, no studies have been focused on Panchpokhari Rural Municipality, as this rural municipality also has 150 households at risk and 1020 ropani (1 ropani = 508.74 m2) of its land at risk.
The flood caused the following losses in Helambu Rural Municipality (RM), Melamchi Municipality and Panchpokhari RM: 551 houses damaged/destroyed; 7 suspension bridges destroyed; 9 RCC bridges destroyed; 26 human lives lost.
Following activities are to be prioritized to address CCDR

Post-disaster preparedness in every ward of affected Municipality and RM.
Development of an early warning system.
Suitable structure/measures for bottleneck stabilization in Bhemathang.
Slope protection using the boulders that have been carried by the flood. It will utilize scattered boulders in the area to stabilize the slope from erosion.
Land zone planning: Public land along the bank of Melamchi River should be categorized for widening of river, construction of river training works and channelizing of the river.
Extension of plum and gabion wall construction activity for longer length, depending upon the site condition for slope protection and protection of the roadway.
Excavation of construction materials (especially boulders) deposited by the flood and utilize that for the construction within the affected areas.
Identification of potential risk zones, implement land use zoning approach, and manage them properly.
Designing and implementing business restoration plan and programs (especially hotel business and Trout farming).
More discussion on the potential CCDRM activities in Melamchi bajar

Techniques for identifying, mapping, and communicating CCDR risk zones using local knowledge:

Identification of risk zones assuming the whole x-section and width will have river flow.
Flood patterns in upper and lower reaches of river are different, therefore, risk zoning program should consider this reality.
Landslide zoning
Communication during disaster, e.g. phone communication, siren, police whistle for quick communication in the locality, radio communication, etc.
Government officials should be active during disasters for communication and precautions.

The following disaster risk management planning can be potentially considered;

Consider multiple strategies depending upon level/extent of risk. Examples include living with flood, unified colony.
Be prepared and careful during the 3 months of monsoon season (Asar, Shrawan, Bhadra).
Disaster risk mapping and different land use planning in different zones. Actual river width should be identified for Right of Way (ROW) determination. (as most of the houses were in ROW)
Spell-out clearly about disaster risk communication (e.g., one who knows early should inform others, mass SMS service, etc.)
Both structural and non-structural measures, their suitability, resourcing for those activities, should be clearly spelled-out.
Define/characterize role of local level government bodies at different stages of disaster risk management planning and implementation
Define and elaborate on disaster fund and its management
Public awareness component should be a part of disaster risk management planning

The following areas should be prioritized in addressing resilient building

River training in highly risky zones.
Unified housing (this was not preferred by the locals as they won't have any businesses or other source of income for living).
Mass management during floods.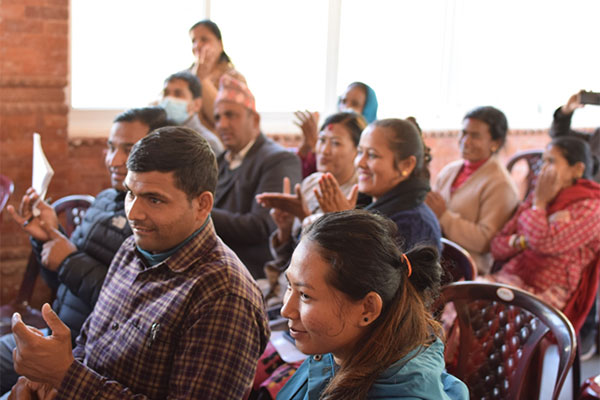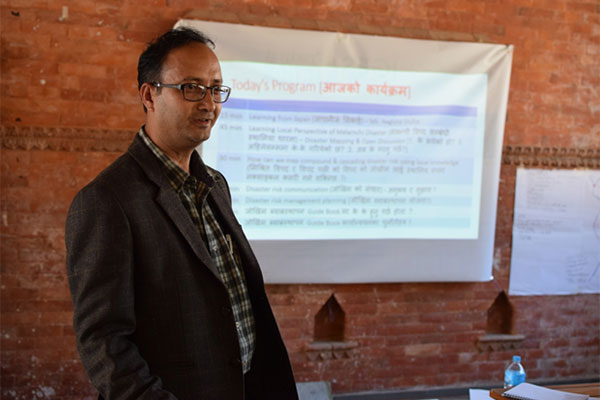 The participants also discussed the potential contents for the guidebook and implementation challenges. They emphasize the importance of a context of local vulnerability, short-term to long-term planning for plan, budget, policy, equipment and management. It was also stressed that CCDRM communication before, during and after disaster events could be strengthened using e.g. emergency broadcast systems in disaster prone zones. In addition, participants raised various challenges associated with CCDRM implementation and ways forward to address them including unified planning and housing, ways to deal with the child psychology that has been affected due to massive destruction, etc. The discussion in the workshop will be reflected in the guidebook that is scheduled to be published in February, 2023.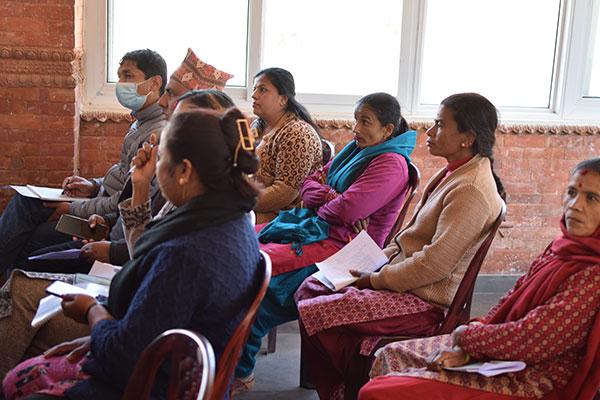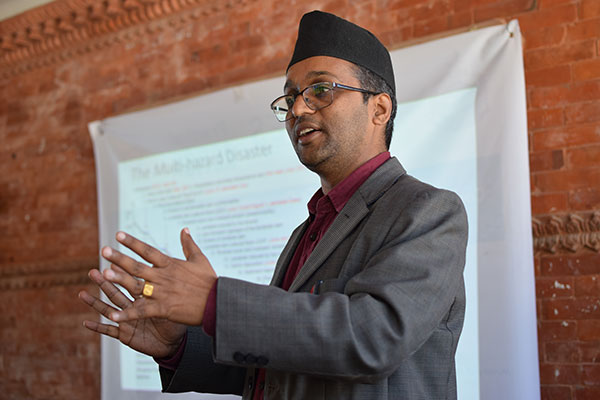 Related links
(Posted : 23/DEC/2022)