AP-PLAT capacity development programme:
Development of local guidebook on Compound and Cascading Disaster Risk Management (CCDRM) in Nepal
Date
1st session: September 22, 2022
2nd session: September 23, 2022
3rd session: October 1, 2022
Venue
Online
Language
English/Nepali
Session title
Online Expert Consultations: Compound and Cascading Disaster Risk Management in Nepal
Organizer
Institute for Global Environmental Strategies (IGES)
Institute of Engineering, Tribhuvan University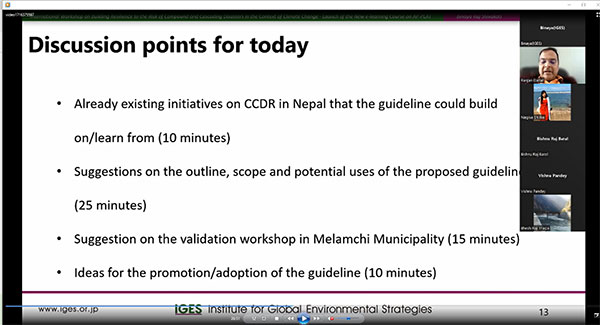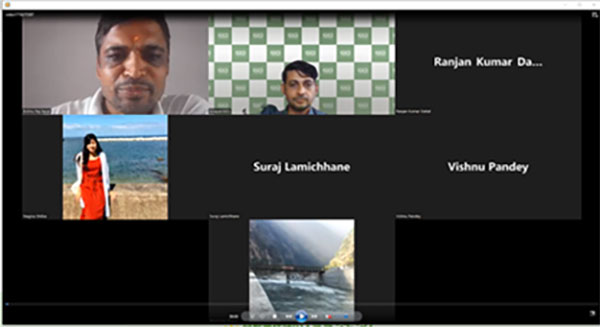 Institute for Global Environmental Strategies (IGES), with the support from Ministry of Environment Japan (MOEJ), has launched the project for developing country guidebook to address complex climate risks, based on the AP-PLAT's capacity development tutorial series on Compound and Cascading Disaster Risks Management (CCDRM). In conjunction with the Institute of Engineering of Tribhuvan University, the team has conducted a series of expert consultations to design a guidebook that support local communities to manage CCDRM during September-October, 2022. Three consultation meetings were carried out with more than X experts in Nepal, which brought about an interactive and productive discussion, for examples, on the following questions.
‒ What are the hazards that we will incorporate or consider in CCDRRM?
‒ What are methodologies to characterize those hazards? Whether any practitioner in the Municipality can implement those methodologies?
‒ How to make a guidebook more effective or useful?
Experts discussed what element is important in a guidebook. A common suggestion was to provide new insights on CCDRR, which is relatively a new concept in Nepal. Some suggested implementation strategies and resource mobilization plan are critical. As another participant highlighted, CCDRM guidebook should be prepared by considering the limited resources and few staffs in charge of disaster risk management the implementation will be challenging. In addition, implementation is a key. It was also pointed out that local government needs those guidebooks, but they have insufficient implantation capacity. In regard to strategies to promote the use of a guidebook, some experts suggested taking participatory approach, local language translation.
There was also the discussion on the validation workshop in Melamchi Municipality, which was heavily affected by a debris flood triggered by cascading hazard phenomenon in June 2021.. Identifying people's perception on major hazards as well as on major local management strategies among different groups from different localities was highlighted. Possible challenges include how to ensure resources for implementing the guidebook and how to convey the technical content in a easy to understand way to the potential users – the local communities. Streamlining the content with existing DRR arrangement is frequently mentioned. Participants highlighted the importance of a bottom-up and community-driven approach to identify and analysis local risks from the local's viewpoint.
Another important note is that there are lots of existing guidebooks and disaster risk management efforts. For instance, the government has been developing the national framework on risk sensitive land use planning and other local disaster management practices supported by the World Bank GRID initiative. Therefore, some participants emphasized that value addition to the existing guidebook is important, especially, on CCDRM concept and additional steps to be considered. . The local guidebook which is going to be published on AP-PLAT next year is expected to provide new insights on CCDRM for resilient communities through locally-led climate change adaptation and disaster risk reduction.
Affiliations of participants
Tribhuvan University, Consultants to National Disaster Risk Reduction Management Authority (NDRRMA), member of Asia Development Bank study team on Melamchi disaster, Center for Disaster Studies (CDES), National Development Research Institute (NDRI), Center of Research for Environment, Energy and Water (CREEW), International Water Management Institute.
Related links
Building resilience to compound and cascading disaster risks
https://ap-plat.nies.go.jp/adaptation_literacy/resources/e_learning/drr/index.html
(Posted : 4/NOV/2022)