EU and Japan discussed climate adaptation platforms on a KE4CAP event
| | |
| --- | --- |
| Date | 29-30/JUNE/2021 16:30-19:00 Japan Standard Time |
| Location | Virtual event |
EU-Japan virtual knowledge exchange event 'Enhancing Connections Across International, National and Local Adaptation Actions' was held on 29 and 30 June 2021.
The event was organized by KE4CAP (Knowledge Exchange between Climate Adaptation Knowledge Platforms), a consortium project funded by the European Commission which focuses on promoting cooperation between EU countries and non-European major economies, and hosted by the Center for Climate Change Adaptation (CCCA), which is part of the National Institute for Environmental Studies (NIES), Japan.
The event attracted around 50 participants each day from all over the world, including Europe, Japan, the Asia-Pacific region and Canada. We would like to thank all presenters and participants for joining us and for their invaluable input in presentations and discussions.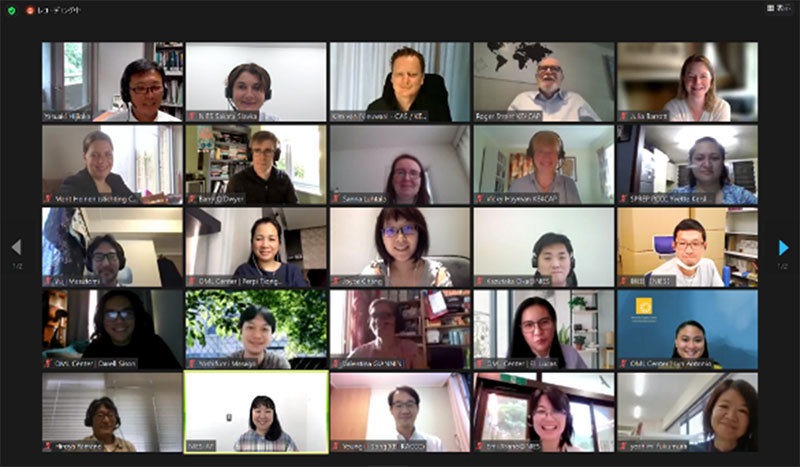 Group photo from Event #2, showing about half of the participants.
AP-PLAT apologizes for failing to save the second part of the virtual meeting screen with the rest of the participants. We will do better next time!
The program was divided into Event #1 (June 29) and Event #2 (June 30).
Event #1 focused on 'Linking local and national platforms to promote action,' while Event #2 explored 'Enhancing the role and value of transnational platforms.' In other words, while both events dealt with climate adaptation knowledge platforms, their specific focus was different.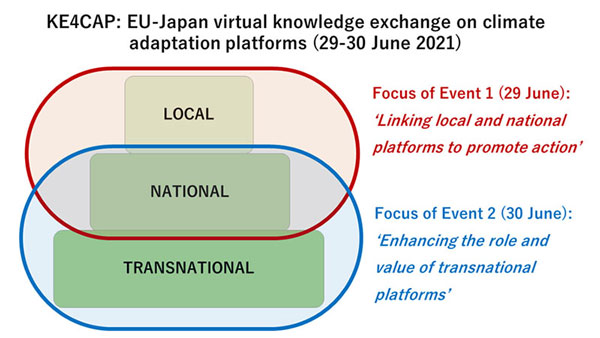 While the two events diverged in their focus, they had also a lot in common, and many participants joined both. Thanks to great facilitators from KE4CAP and passionate presenters and participants, the discussion, both on the screen and in the chat, was very lively and substantial - something we at AP-PLAT are happy about.
English/Japanese translation of the chat messages was provided almost real-time by the AP-PLAT staff, who used a combination of human and software translation to ensure both accuracy and speed. We hope this helped break the language barrier so that all participants could take part in the discussion. This was especially important on Event #1 which focused on local adaptation and was attended by members of local adaptation centers in Japan and other participants who may not be active English-speakers.
One of the event objectives was to learn more about the approaches that Japan is taking with their national and transnational platforms. Japan introduced its already well-established national adaptation platform A-PLAT, and its new, aspiring transnational platform for the Asian-Pacific region, AP-PLAT.
Program summary
(Note that this is a pre-event agenda and some presenters have changed. For the actual presenters, see the summary below)

(Participants were expected to watch pre-recorded presentations in advance, since they were not shown during the event and presenters gave live presentations instead.)
Event #1 started with a warm welcome by Mr. Yasuaki Hijioka (CCCA) and Mr. Roger Street (KE4CAP), after which the overview of climate change adaptation policies and programmes in Japan was given by Mr. Kazuaki Takahashi (Climate Change Adaptation Office, Ministry of the Environment, Japan), and adaptation activities of CCCA were introduced by Mr. Yoshifumi Masago (CCCA, NIES). As for initiatives in Europe, Mr. Kim van Nieuwaal gave us an overview of the activities of Climate Adaptation Services in the Netherlands, and Mr. Barry O'Dwyer introduced Climate Ireland. Presenters focused on the viewpoint of linking local and national adaptation action.
As for two plenary discussions, questions from Japan's local adaptation centers were collected and shared with presenters in advance. This fact, together with impressive facilitating skills of the moderators Kim and Roger, contributed to the resulting lively discussion full of substantial insights.
One topic repeatedly mentioned in the discussions was the need to work directly with the end-users and incorporate their feedback into the platform development, while also taking into consideration the fact that users don't always know what exactly they need.
On Event #2, after an introduction by Mr. Yasuaki Hijioka and Mr. Kim van Nieuwaal, Mr. Yuji Masutomi (CCCA) described the context setting and Mr. Kazutaka Oka (CCCA) introduced A-PLAT and AP-PLAT. Then we had the pleasure to learn about activities of several platforms/organizations in the Asia-Pacific region: CSIRO in Australia (presented by Mr. Geoff Gooley), PCCC/SPREP based Samoa but covering wider Pacific region (Ms. Yvette Kerslake), eCCET and Oscar M. Lopez Center in the Philippines (Ms. Perpi Tiongson), KACCC in South Korea (Mr. Young-Il Song), and TCCIP in Taiwan (Ms. Chia-Wei (Joyce) Chang). Presenters focused on sharing their view of the benefits, challenges and insights related to connecting with other platforms in the Asia-Pacific region. In the discussion, we had further input from participants, especially regarding adaptation networks in Europe and Canada.
The recurring theme on Event #2 was the recent proliferation of CAPs all over the world, making it difficult for the users to navigate the landscape. The prevailing opinion was that we need fewer, but better organized and more integrated platforms if we want them to truly contribute to real-world climate action. For AP-PLAT, which aspires to be a transnational platform for the Asia-Pacific region, this might be one of the major challenges on its journey to become truly useful one-stop platform for the region.
(Posted : 05/JUL/2021)