AP-PLAT participated in the Regional Training Workshop on
Climate Adaptation Tools in Thailand
Event
Regional Training Workshop on Climate Adaptation Tools
Date
29-31 May 2023
Place
Bangkok, Thailand
Organizers
Regional Resource Centre for Asia and the Pacific, Asian Institute of Technology (AIT RRC.AP)
Collaboration
Ministry of Environment Japan (MOEJ)
National Institute for Environmental Studies (NIES)
Hitachi, Ltd.
University of Tsukuba
The Regional Resource Centre for Asia and the Pacific at the Asian Institute of Technology, (AIT RRC.AP) organized a 3-day Regional Training Workshop on Climate Adaptation Tools on 29-31 May 2023 in the Sukosol Hotel in Bangkok, Thailand.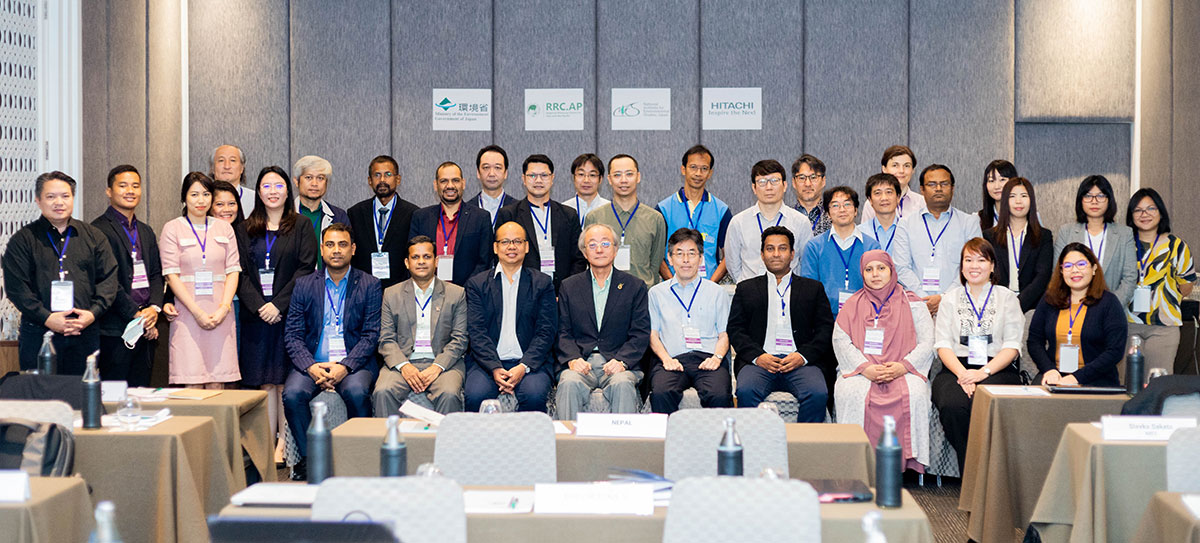 Group photo of organizers, lecturers and participants
The workshop had about 20 participants from 9 countries: Bangladesh, India, Japan, Myanmar, Nepal, the Philippines, Sri Lanka, Thailand, and Vietnam. Participants also had diverse professional backgrounds, including government officials, experts from public and private sector, and practitioners from non-profit organizations.
3 members of the AP-PLAT team at NIES participated: Dr. Yuji Masutomi, Ms. Yuka Suzuki, and Ms. Slavka Sakata.
At the workshop, participants learned how to use three online tools for climate projections and climate impact assessment: ClimoCast, S8DS, and FloodS. After lectures and hands-on exercises to master each tool, participants applied their new skills in their final individual projects presented on Day 3.
ClimoCast, a tool for rainfall and temperature forecasting based on the latest climate data, was introduced by Dr. Yuji Masutomi, the head of AP-PLAT team at NIES, and an overview of AP-PLAT was provided by Ms. Slavka Sakata, also from AP-PLAT team.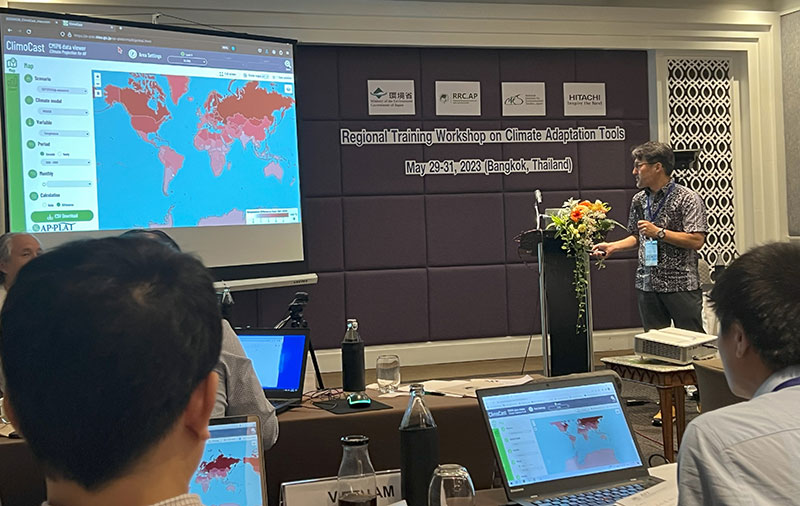 Dr. Masutomi during a hands-on session on ClimoCast
S8DS, a tool which uses dynamical downscaling to calculate future data, was introduced by Prof. Hiroyuki Kusaka from the University of Tsukuba, and Mr. Shusaku Nakamura from Pacific Consultants Co, Japan.
※S8DS requires users to obtain a login account from RRC.AP to access the simulation mode of the tool.
FloodS, an online tool to simulate water level and flow conditions to help develop strategies for flood damage mitigation, was introduced by Dr. Satoshi Yamaguchi from Hitachi, Ltd., Japan. Dr. Yamaguchi also gave an overview of a more complex flood simulator DioVISTA.
Please refer to a detailed report by RRC.AP for more information about the workshop.
AP-PLAT team would like to thank the organizers for hosting a great event and to all participants for their attention and active participation in lectures and hands-on exercises, as well as for many interesting conversations during the coffee breaks.
(Posted : 15/June/2023)