AP-PLAT Plenary Meeting
Date
14 February 2023
Venue
Online
Language
English
Meeting title
AP-PLAT Plenary Meeting
Organizer
Ministry of Environment, Japan (MOEJ)
Institute for Global Environmental Strategies (IGES)
National Institute for Environmental Studies (NIES)
On February 14, 2023, the Asia-Pacific Climate Change Adaptation Information Platform (AP-PLAT) held a meeting to discuss its future development. The meeting was attended by 52 representatives from various organizations, including government agencies, international organizations, research institutes, universities, and private companies. Among the attendees were the Ministry of the Environment Japan, the National Institute for Environmental Studies, and the Institute for Global Environmental Studies, along with other relevant organizations.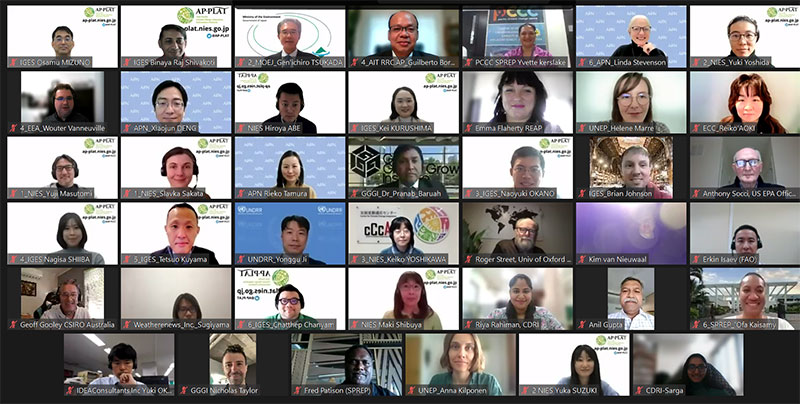 The agenda for the meeting included:
Introduction of AP-PLAT activities
Introduction of partner collaboration activities through AP-PLAT in FY 2023
Introduction of activities of participating organizations
Discussion on collaboration through AP-PLAT
During the meeting, the contents of the "AP-PLAT Framework for Action 2023-2025" were discussed. The group decided to finalize the document by the end of February, following a specified period for comments.
AP-PLAT Framework for Action 2023-2025
Proposing the creation for collaboration opportunities for AP-PLAT in FY2023, AP-PLAT outlined the priority issues in the "AP-PLAT Framework for Action 2023-2025" and suggested specific activities envisioned for FY2023 to explore collaboration, with a particular emphasis on these areas. These activities include organizing a progress meeting, a hybrid plenary meeting, and events at the APAN Forum to develop an "Activity Plan for FY 2024" and "Action Plan 2023-2025."
While the specifics of the collaboration are to be discussed at the progress meeting, future proposals for FY2023 emerged from discussions held during the plenary meeting. For details of that were mentioned in the discussion, please see the meeting report.
AP-PLAT Plenary Meeting Outcome Report 2023
The progress meetings are scheduled to take place online in July or August 2023 to further deliberate and develop specific collaboration proposals.
We would like to express our sincere gratitude to all of the participants who have contributed to the success of AP-PLAT's initiatives. We are eager to continue working with you and look forward to our continued collaboration and improvement in the future.
Related links
(Posted : 23/MAR/2023)