AP-PLAT Participated in JICA Training on Enhancing Access to Climate Finance
Event
JICA Training Course "Enhancing Access to Climate Finance: Theory and Application for Practitioners"
Date & Time
20 January 2023, 9:00-12:00
Place
Climate Change Research Hall at NIES, Tsukuba, Japan
Organizers
Japan International Cooperation Agency (JICA)
Overseas Environment Cooperation Center (OECC)
National Institute for Environmental Studies (NIES)
Participants of the Japan International Cooperation Agency (JICA) Training Course "Enhancing Access to Climate Finance: Theory and Application for Practitioners" visited the National Institute for Environmental Studies (NIES) on January 20, 2023, to learn about NIES initiatives in the field of climate change. Part of the program was the introduction of AP-PLAT by Dr. Yuji Masutomi.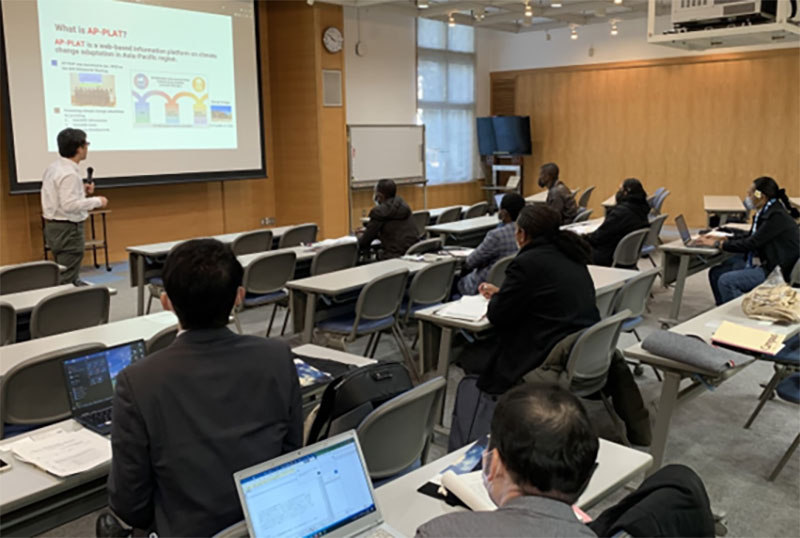 Dr. Masutomi' s lecture on AP-PLAT
During the half-day visit, participants learned about the following topics:
- Main findings of the IPCC 6th Assessment WG II Report on Impacts, Adaptation and Vulnerability, presented by Dr. Kiyoshi Takahashi from Social Systems Division, NIES.
- Introduction of Japan's national adaptation platform, A-PLAT (distinct from AP-PLAT), and the Center for Climate Change Adaptation (CCCA). The lecture was presented by Dr. Tasuku Machimura from CCCA, NIES.
- Introduction of the Asia-Pacific Climate Change Adaptation Information Platform (AP-PLAT) and its website contents, including activities and scientific tools, was presented by Dr. Yuji Masutomi from CCCA, NIES.
- Overview of Japan's greenhouse gas (GHG) inventory and the GHG Inventory Office of Japan (GIO) was introduced by Dr. Elsa Hatanaka from the Center for Global Environmental Research (CGER), NIES.
- The Greenhouse Gasses Observing Satellite (GOSAT) Series, a long-term joint project by MOEJ, NIES and JAXA, was introduced by Dr. Tsuneo Matsunaga from the Satellite Observation Center (SOC), NIES. After the lecture, JICA course participants also visited project-related facilities at NIES, including Fourier Transform Spectrometer (FTS) laboratory, which is used for GOSAT data validation.
- CONTRAIL Project, where atmospheric CO2 and other trace gases are measured using passenger aircraft, was introduced by Dr. Toshinobu Machida from CGER, NIES.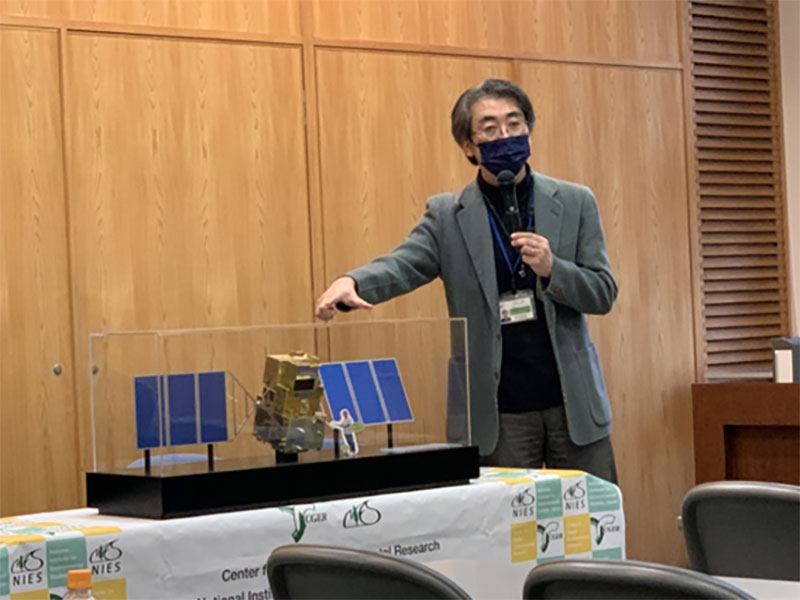 Dr. Matsunaga introducing satellite IBUKI used in the GOSAT Series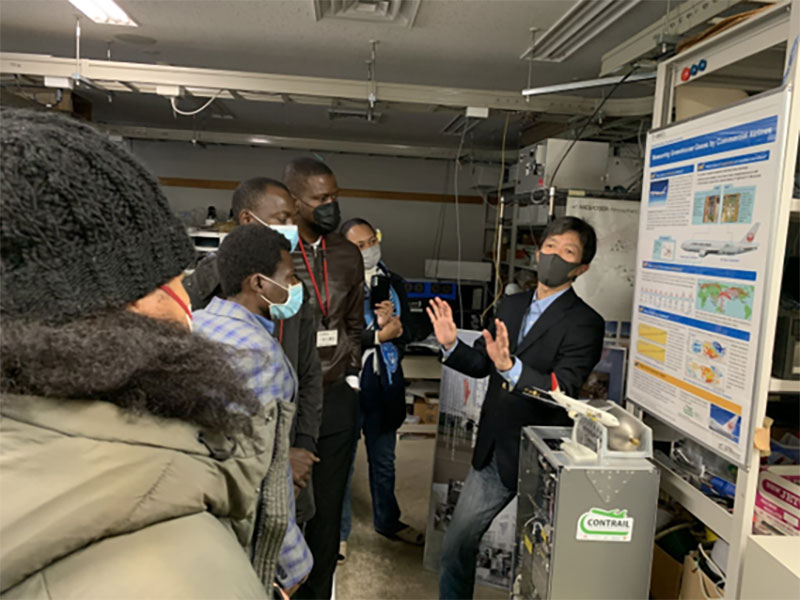 Dr. Machida explaining how atmospheric GHG are measured using Japan Airlines (JAL) commercial aircraft.
After the morning visit to NIES, the participants moved to JAXA in the afternoon.
We want to thank the course participants for their curiosity and engagement, and to the coordinators from JICA and OECC for their time and effort in organizing the visit.
Although the field trip to NIES was a small part of the 2-month training course, we hope participants gained meaningful knowledge from the visit. The AP-PLAT team is looking forward to further future collaboration with JICA.
JICA Course Overview
- Course Title: Enhancing Access to Climate Finance: Theory and Application for Practitioners
- Overall number of participants: 6
- Participants' countries of origin (number of participants): Republic of Fiji (3), Democratic Republic of the Congo (2), Republic of the Gambia (1)
- Course duration: 2 months (12 December 2022 – 11 February 2023)
- Course format: First month – online lectures; Second month – in-person lectures and field trips in Japan.
- Course overview: A large amount of finance is needed to tackle climate change in developing countries. Among several climate finance, i.e. Adaptation Fund (AF), Global Environment Facility (GEF) and Green Climate Fund (GCF). GCF, which has now become the biggest climate financial mechanism, was set in 2010 within the framework of the United Nations Framework Convention on Climate Change (UNFCCC) as an operating entity of the financial mechanism. Only Accredited Entities (AEs) have access to GCF funding, and 97 AEs have been approved by GCF, including JICA (as of May 2020). GCF has approved 129 projects (as of May 2020), of which 17 projects were formulated and submitted by Direct Access Entities (DAEs), and GCF encourages DAEs to formulate projects.
This course, targeting officials from National Designated Authorities (NDAs) and line ministries, aims to improve access to climate finance by enhancing their skills to formulate climate change projects and develop concept notes.
-----
Related links
(Posted : 1/FEB/2023)