AP-PLAT Participated and Presented at the ISAP2022 in Yokohama
Session Title
Bridging Science and Policy. AP-PLAT's Progress Toward a Climate-Resilient Asia-Pacific
Date & Time
1 December 2022, 16:00 - 17:00
Venue
Online
More
information
Video of session
ISAP2022 was hosted by the Institute for Global Environmental Strategies (IGES) from November 28 to December 5 in Yokohama, Japan.
The December 1, Thematic Tracks sector title was "Net Zero and Resilient Transitions in Asia (2): From Science to Policies and Implementation -- or Japan's Contribution to Asia".
AP-PLAT participated in the third session, "Bridging Science and Policy: AP-PLAT's Progress Toward a Climate-Resilient Asia-Pacific."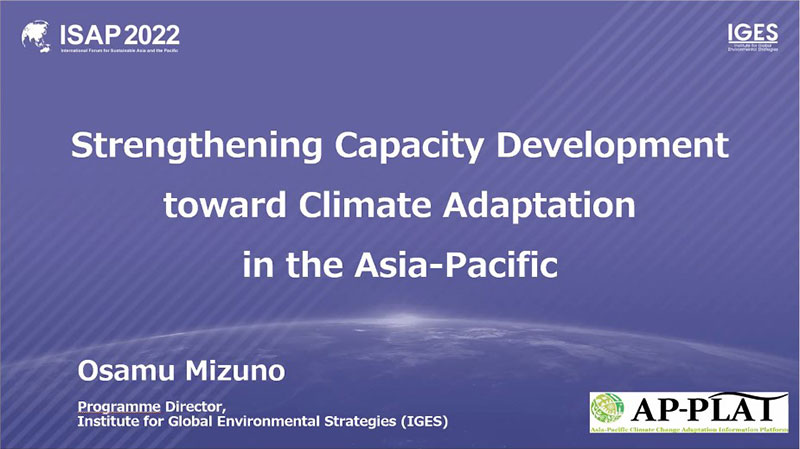 The purpose of this session was to review AP-PLAT's "capacity building" activities to date and explore prospects for achieving a climate-resilient Asia-Pacific region.
The session invited adaptation policy researchers, climate science tool developers, and climate policy practitioners from developing countries involved in capacity development programs; discussed how to effectively bridge science and policy, how to promote climate change mitigation and adaptation in an integrated manner, significance, and roles of AP-PLAT capacity development programs; and examine future challenges to form the Asia-Pacific region that is resilient to climate change.
The session was facilitated by the following participants:
Moderator: MIZUNO Osamu, Programme Director, Adaptation and Water, IGES
Speaker1: YOSHIDA Yuki, Researcher, Center for Climate Change Adaptation, National Institute for Environmental Studies
Speaker2: Vishnu Prasad Pandey, Professor and Deputy Executive Director of Center for Water Resources Studies (CWRS), Institute of Engineering, Tribhuvan University
Speaker3: Netail Chandra Dey SARKER, Director, Ministry of Disaster Management and Relief, Bangladesh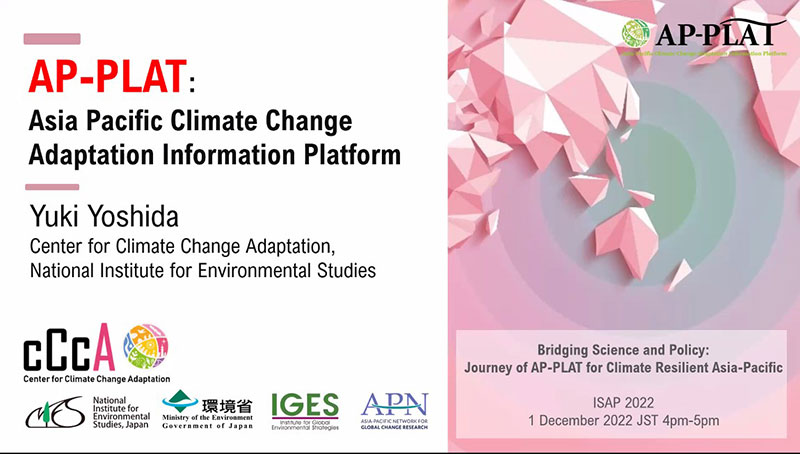 From AP-PLAT, Dr. Yoshida made the announcement with the emphasis that AP-PLAT aims to support adaptation in the Asia-Pacific region through the provision of scientific information, the development of tools, and capacity building for adaptation.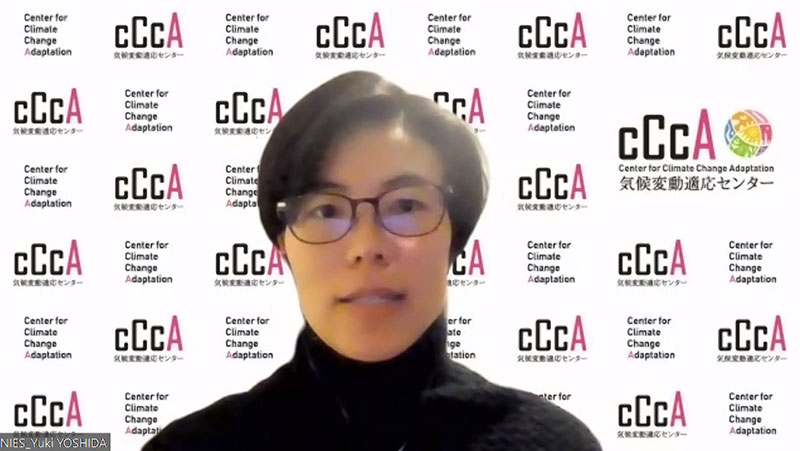 Dr. Yoshida giving a presentation on AP-PLAT
Professor Vishnu Prasad Pandey Center for Water Resources Studies (CWRS) Institute of Engineering, Tribhuvan University, Nepal, gave a presentation on landslide damage and earthquake disasters in Nepal. He stated
"Disaster Risk Management requires continued engagement and commitment from various governments and international agent. Specialized information plat forms for basic to advance information on disaster event's, generating hazard/ risk information, scenario analysis, and communication them. AP-PLAT may be able to contribute to this endeavor."

Prof. Vishnu Prasad Pandey presenting on flood and landslide damage in Nepal
Lastly, Mr. Netai Chandra Dey SARKER (Director General, Ministry of Disaster Management and Relief, Bangladesh) presented the Introduction and Challenges in Strengthening Capacity Development of Adaptation in Bangladesh as a case study of Bangladesh.

Mr. Netai Chandra Dey SARKER presenting on Capacity Development in Bangladesh and its challenges
The session included a panel discussion between the moderator and presenters. They aimed to answer questions about the barriers against strengthening adaptive capacity in their respective countries and the potential roles of AP-PLAT in enhancing adaptive capacity in the Asia-Pacific.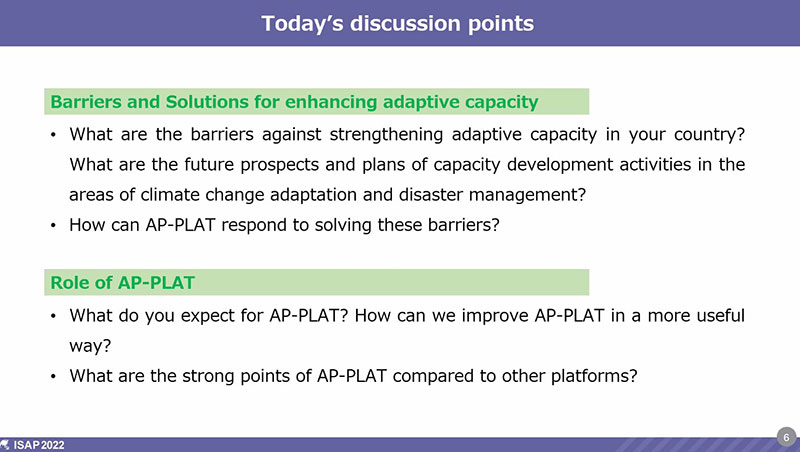 Professor Vishnu Prasad Pandey highlighted three main points to strengthening adaptive capacity: 1) recognizing capacity building as a process, 2) focusing and prioritizing evidence-based adaptation strategies, and 3) developing local case studies. Mr. Netai Chandra Dey Sarker notes they are currently developing their national disaster management research and training institute, collaborating with other countries to strengthen their institute. On behalf of team AP-PLAT, Dr. Yoshida and moderator Mr. Osamu Mizuno respond with potential roles AP-PLAT can contribute to, such as communicating with key counterparts for capacity building to meet the needs of local situations and filling the gap in cases where there is a lack of capacity building, focusing on local communities. Additionally, Professor Pandey outlines the quality content provided by AP-PLAT and offers feedback to enhance the capability for scenario analysis and options evaluation and to disseminate the platform to an international context. In response to this, Dr. Yoshida provides additional information on the customizable information provided by AP-PLAT, showcasing the available e-learning courses and data and tools to investigate local situations, which was the highlighted issue of this discussion.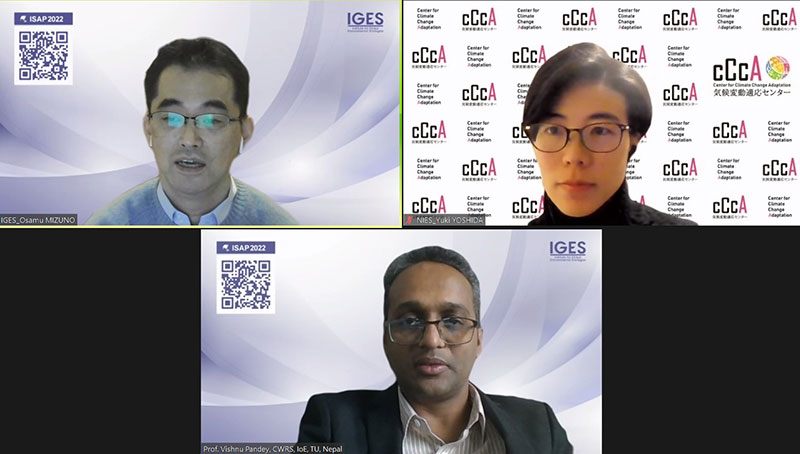 Speakers engage in a meaningful exchange of ideas during a panel discussion
It is our anticipation that the discussions identified in this session will encourage more communities to take advantage of the information that AP-PLAT can provide.
We would also like to thank the organizers, IGES, for hosting this event!
Related links
Tutorial series on ClimoCast at YouTube
Climate Impact Viewer
(Posted : 6/DEC/2022)