AP-PLAT participated in the session on Locally Led Adaptation at Gobeshona Global Conference
Date
31/MAR/2022
10:00-11:30 Bangladesh Standard Time
(13:00-14:30 Japan Standard Time)
Venue
Online
Session title
Localization of NDCs through community-led 'adaptation innovation' in the Asia-Pacific region: Needs and Pathways
Organizer
Institute for Global Environmental Strategies (IGES)
Asia-Pacific Network for Global Change Research (APN)
2nd Gobeshona Global Conference (GGC2)
The 2nd Gobeshona Global Conference (GGC2) was held online from March 27 to April 1, 2022. AP-PLAT participated in the session titled "Localization of NDCs through community-led 'adaptation innovation' in the Asia-Pacific region: Needs and Pathways" (Below, "Localization of NDCs") on March 31.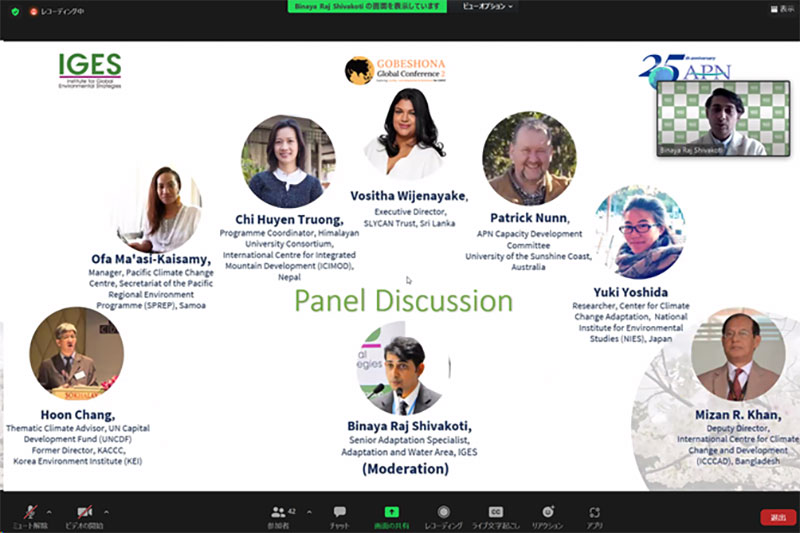 "Localization of NDCs" session panelists
GGC2, organized by the International Center for Climate Change and Development (ICCCAD), offered dozens of sessions on a wide spectrum of topics ranging from adaptation technology to climate justice, while keeping the overall focus on Locally - Led Adaptation Action (LLA).
Session Overview
One of the conference sessions was "Localization of NDCs", jointly organized by the Institute for Global Environmental Strategies (IGES) and the Asia-Pacific Network for Global Change Research (APN). This session was also an informal kick-off of a new initiative led by IGES and APN as a part of the capacity building pillar of AP-PLAT.
At the session, AP-PLAT was represented by Dr. Yuki Yoshida, a researcher at the Center for Climate Change Adaptation (CCCA) and a member of AP-PLAT team. Dr. Yoshida introduced AP-PLAT and its two online climate projection tools ClimoCast and Climate Impact Viewer in the panel discussion.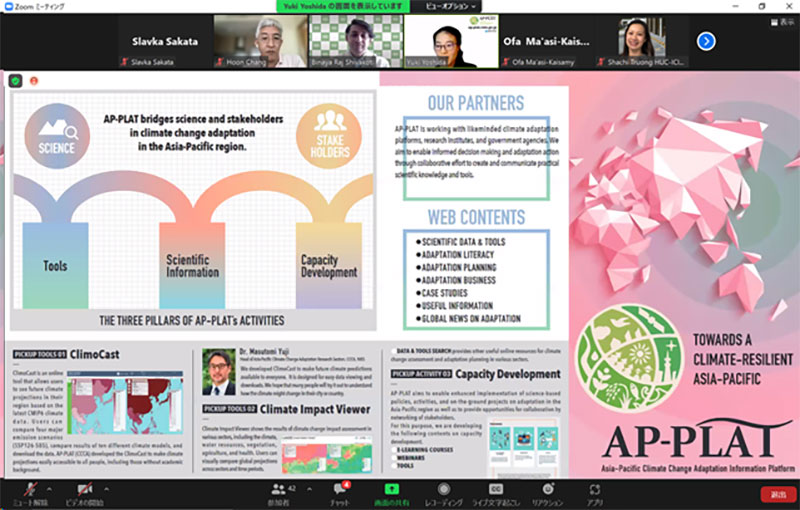 Dr. Yoshida introducing AP-PLAT at the "Localization of NDCs" session
Detailed program of the session is here.
The 90-minute program utilized interactive components to encourage participants' input. In Audience engagement with Mentimeter, participants answered survey questions (such as "What stakeholder group do you represent?") while the survey results were tallied and displayed in real time using interactive presentation software Mentimeter. In the Breakout Sessions, participants discussed various questions using digital interactive whiteboard Jamboard. In Breakout Session 1, participants identified some of the challenges of mainstreaming NDCs' adaptation goals down to the local level as lack of coordination between national ministries, local authorities and local communities, lack of resources and lack of awareness/interest in NDCs at the local level. In Breakout Session 2, which discussed local level capacity gaps and needs, the importance of combining global and local knowledge through knowledge co-creation was highlighted as a local capacity development need.
With about 40 participants, we hope the organizers were able to obtain helpful insights from the audience which they can utilize to advance the new capacity building initiative.
Session background
Nationally determined contributions (NDCs), which outline each country's climate actions and long-term climate goals, are submitted by individual countries to the UNFCCC secretariat every 5 years as required by the Paris Agreement.
Since NDCs include not only mitigation but also adaptation commitments, they are closely linked to AP-PLAT's mission of contributing to climate adaptation in the Asia-Pacific region.
While NDCs embody global and national level policy, their adaptation goals require local action to be achieved. This is the context behind the "Localization of NDCs" session, which discussed how regional capacity building initiatives can help localize NDCs through community-led adaptation innovation. The session was a continuation of the "Capacity Building for Promoting Local Adaptation Innovation" session held a year earlier – on January 22, 2021 – at the 1st Gobeshona Global Conference.
AP-PLAT is eager to further collaborate with diverse actors in the Asia-Pacific region, including local communities, to promote Locally - Led Adaptation Action that will truly benefit the communities through strengthening their climate resilience.
(Posted : 8/APR/2022)