AP-PLAT was among the initiatives introduced at the Policy Dialogue on Regional Cooperation for Sustainable Development in South Asia
| | |
| --- | --- |
| Date | 17/NOV/2021 12:45-20:30 (Japan Standard Time) |
| Location | Hybrid event |
AP-PLAT was among the initiatives discussed at the Policy Dialogue on Regional Cooperation for Sustainable Development in South Asia, organized by the UN Economic and Social Commission for Asia and the Pacific (ESCAP) n November 17, 2021.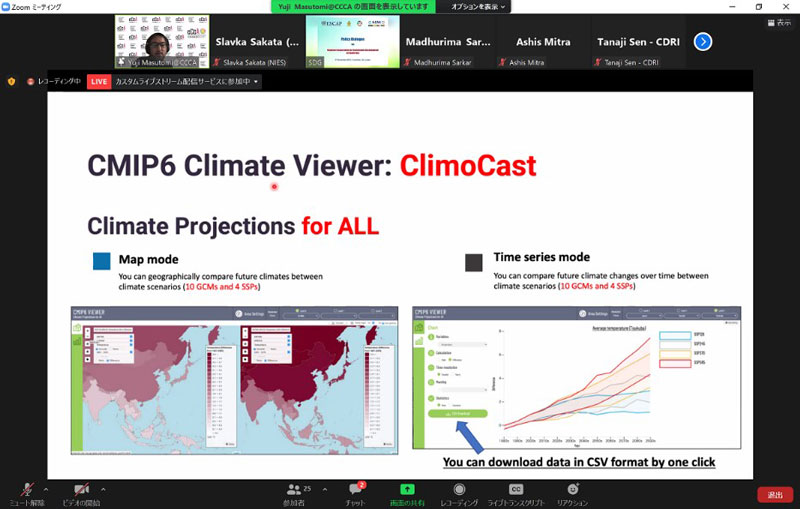 Dr. Masutomi introducing AP-PLAT
The Dialogue, which was part of a series of Policy Dialogues on various sustainable development topics organized by ESCAP, had 5 thematic sessions:
| | |
| --- | --- |
| Session 1 | Enhancing regional economic integration in South Asia in the emerging context |
| Session 2 | Regional cooperation for enhancing shift towards sustainable freight transport in South and South-West Asia |
| Session 3 | Fostering energy cooperation |
| Session 4 | Regional cooperation for addressing disaster risks and building climate resilience |
| Session 5 | Building back better from crises through regional cooperation: Setting the future agenda for the South Asia Network on SDGs (SANS) |
AP-PLAT was part of Session 4, which discussed closing the adaptation gaps by utilizing existing regional cooperation mechanisms and building resilience in South and South-West Asia (SSWA). According to the Asia-Pacific Disaster Report 2021, around 675 million people in SSWA are exposed to natural and biological hazards, especially heatwaves, droughts, floods and cyclones. For droughts, for example, the greatest risks are in Afghanistan, Bangladesh, India, Nepal and Pakistan – countries with large agriculture sectors and rural populations with high levels of poverty. Climate change impacts will exacerbate these vulnerabilities. Against this backdrop, four speakers and four panelists presented their initiatives and discussed opportunities for regional cooperation to support climate adaptation in the region.
The first speaker, Mr. Sanjay Srivastava of ESCAP, presented key messages from the South Asia Sub-regional Disaster Report 2021. He emphasized the multisectoral nature of disasters and the need for a systemic approach in bridging the adaptation and resilience gaps.
The second speaker, Ms. Madhurima Sarkar-Swaisgood of ESCAP, introduced the Asia Pacific Risk & Resilience Portal, a tool for multi-sectoral risk-informed decision making. The Portal allows users to identify risk hotspots in their country or region and see the current and future losses from cascading hazards, adaptation costs and adaptation priorities and compare data of various countries.
The third speaker was Dr. Yuji Masutomi of the Center for Climate Change Adaptation (CCCA). Dr. Masutomi provided an overview of AP-PLAT activities and its new website, especially two web-based tools: a CMIP6-based climate projection tool ClimoCast, and climate impact assessment tool Climate Impact Viewer. Since both tools provide important data on future climate projections and impacts in various sectors, they can be used to support science-based decision-making in the region.
The fourth speaker, Mr. Tana ji Sen of the Coalition for Disaster Resilient Infrastructure (CDRI), outlined the Coalition's initiatives. CDRI, based in New Delhi, is a partnership of national governments, UN agencies, development banks, the private sector and other stakeholders that aims to promote the resilience of infrastructure systems to climate and disaster risks.
After the speakers' presentations, four panelists shared their insights: Mr. Ashis Mitra of the Bay of Bengal Initiative for Multi-Sectoral Technical and Economic Cooperation (BIMSTEC), Ms. Mandhira Singh Shrestha of International Centre for Integrated Mountain Development (ICIMOD), Ms. Madhavi Malalgoda Ariyabandu of Duryog Niravan: South Asia Network for Disaster Risk Reduction, and Mr. Ramraj Narasimhan of the Regional Integrated Multi-Hazard Early Warning System for Africa and Asia (RIMES).
In the concluding remarks, Mr. Sanjay Srivastava reiterated that the session's objective was to offer solutions. He highlighted the potential of each of the showcased initiatives in adaptation efforts, mentioning AP-PLAT as a state-of-the-art technology that can provide valuable scientific information for risk-informed policy decisions in the region.
*****
AP-PLAT Secretariat would like to thank the organizer for giving us the opportunity to showcase our activities and share ideas with so many experts in the field. We hope to further explore opportunities for collaboration with the participants.
(Posted : 26/NOV/2021)