Possible collaborations between AP-PLAT and PEMSEA, and the role of IGES, were discussed at a seminar on climate resilience in Asia-Pacific
| | |
| --- | --- |
| Date | 15/NOV/2021 10:00-11:30 (Japan Standard Time) |
| Location | Online (Zoom) |
A seminar titled 'Making Asia-Pacific Resilient to Climate Change: The Effort and Perspective of the Asia-Pacific Climate Change Adaptation Information Platform (AP-PLAT)' was held on November 15, 2021.
The seminar was hosted by the Institute for Global Environmental Strategies (IGES) and several co-organizers, in collaboration with the East Asia Sea Congress 2021.
The event was extremely fruitful in that it provided AP-PLAT not only valuable feedback on what to improve on its website and in a wider strategic approach, but also concrete ideas for collaboration with the Partnerships in Environmental Management for the Seas of East Asia (PEMSEA). Participants identified multiple ways in which AP-PLAT and PEMSEA can complement each other's activities. The role of IGES, which already collaborates with both PEMSEA and AP-PLAT - IGES is a PEMSEA Regional Center of Excellence (RCoE) in Climate Adaptation and Disaster Risk Reduction, and it is also developing AP-PLAT's adaptation literacy E-learning content – was discussed as well.
The session, which was chaired by Mr. Osamu Mizuno of IGES and started with opening remarks by Mr. Gen'ichiro Tsukada of the Ministry of the Environment Japan (MOEJ), had three parts:
Introduction of AP-PLAT
Panel discussion (Panelists' feedback)
Open discussion
1.Introduction of AP-PLAT
Two speakers introduced AP-PLAT, each focusing on a different aspect of its activities.
Dr. Yuji Masutomi of the Center for Climate Change Adaptation (CCCA) provided an overview of AP-PLAT and its renewed website, particularly the scientific tools ClimoCast and Climate Impact Viewer. Dr. Masutomi reiterated that the mission of AP-PLAT is to become a bridge between scientists and stakeholders – two groups which, metaphorically speaking, use different languages, and the role of AP-PLAT is to 'translate' the scientific information into a language that policy makers and local communities can understand.
Dr. Binaya Raj Shivakoti of IGES focused on AP-PLAT's new E-learning materials developed by IGES: Building Resilience to Compound and Cascading Disaster Risk, to be launched in January 2022; and Nature-based Solutions, freshly launched just two weeks ago and available on AP-PLAT website or on YouTube. Dr. Shivakoti outlined the structure of the courses, and also explained important background information such as what key knowledge gaps the courses try to fill, thus providing a comprehensive overview of the current capacity building content of AP-PLAT.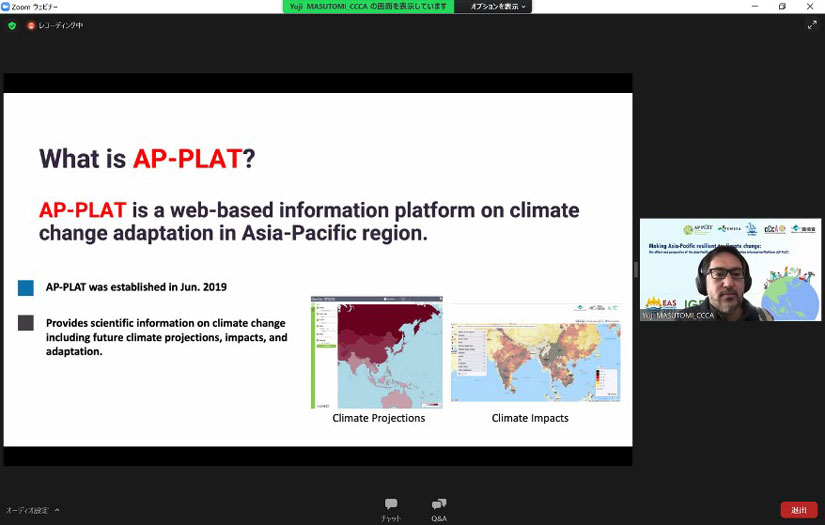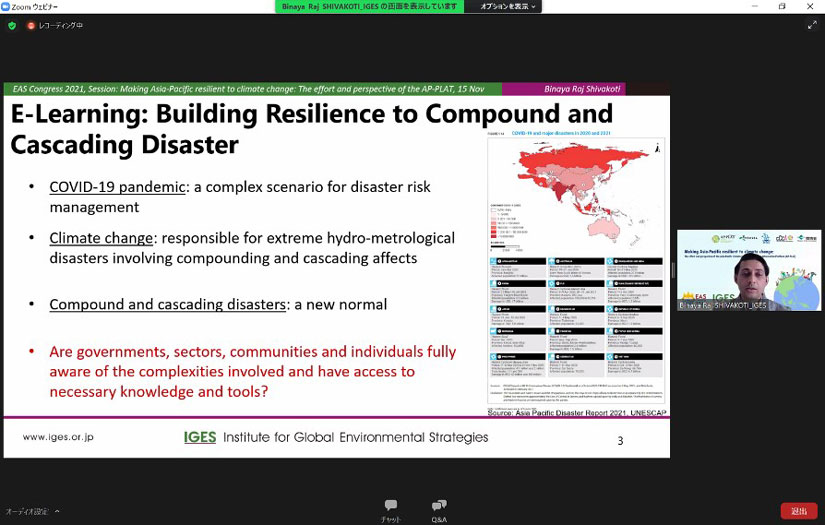 2.Panel discussion (Panelists' feedback)
Four panelists - Ms. Nancy Bermas of PEMSEA Resource Facility, Dr. Wansuk Senanan of PEMSEA Network of Learning Centers (PNLC), Dr. Fang Qinghua of PEMSEA Network of Local Governments (PNLG), and Ms. Casandra Tania of the Arafura and Timor Seas Ecosystem Action Programme (ATSEA-2) - shared their perspectives on the potential applications of AP-PLAT in the Seas of East Asia region.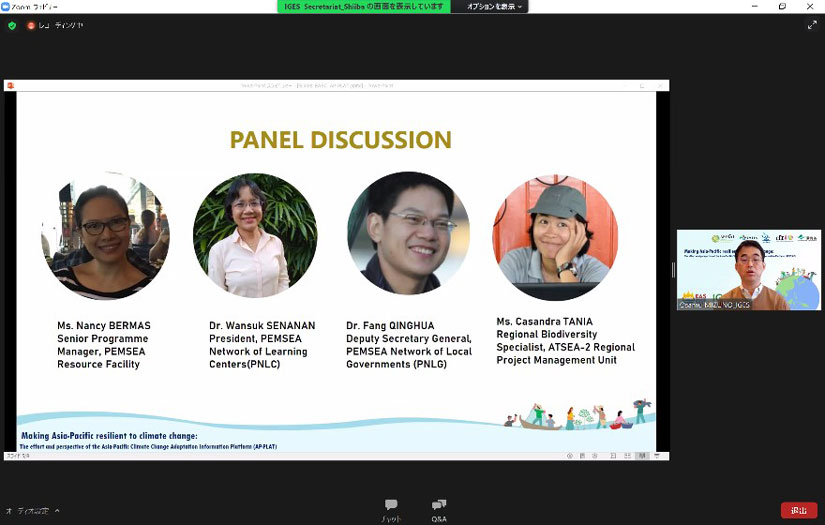 Four panelists
Panelists offered concrete suggestions how AP-PLAT could be meaningfully incorporated into the PEMSEA's work, which includes implementing Integrated Coastal Management (ICM) programs and training services to national and local governments, and other activities.
Panelists also provided constructive feedback regarding the current AP-PLAT website, for example pointing out that the information is often too technical for readers without climate science background, and more non-technical resources as well as tutorials/trainings would be useful; that scientific data at the national level do not match the needs of local governments and communities who need more specific, locally relevant data; and since climate adaptation issues are highly context-sensitive, there is no one-size-fits all-solution and scientists needs to work closely with local stakeholders (co-design, co-production).
3.Open discussion
In the final part of the session, panelists and speakers discussed the following questions, and Dr. Masutomi also answered several questions from the audience.
What is the most prominent adaptation gap in the coastal and marine environment of the Seas of East Asia, and how does your initiative try to fill the gap?
How can AP-PLAT and PEMSEA collaborate to accelerate capacity development activities in the Seas of East Asia?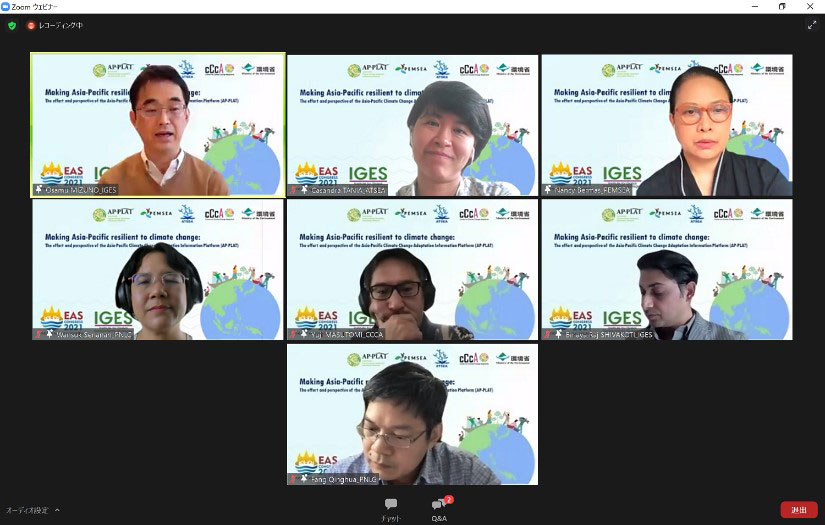 Open discussion
*****
AP-PLAT secretariat would like to thank all participants for their valuable input and to IGES for organizing the seminar. We hope to build on the ideas from the session and find practical ways of collaborating with PEMSEA and IGES that will best serve the needs of communities in the Seas of East Asia region and help improve their climate resilience.
(Updated : 26/JAN/2022
Posted : 26/NOV/2021)