Save your spot! COP26 side event on Nov. 2, 2021, on the utilization of information platforms towards climate resilient Asia-Pacific
| | |
| --- | --- |
| Date | 2/NOV/2021 10:30-12:00 (UK time) |
| Location | Hybrid event: in-person (Glasgow, UK) and online (Zoom) |
AP-PLAT will be discussed at a side event of Japan Pavilion at the UN Climate Change Conference COP26 on November 2, 2021.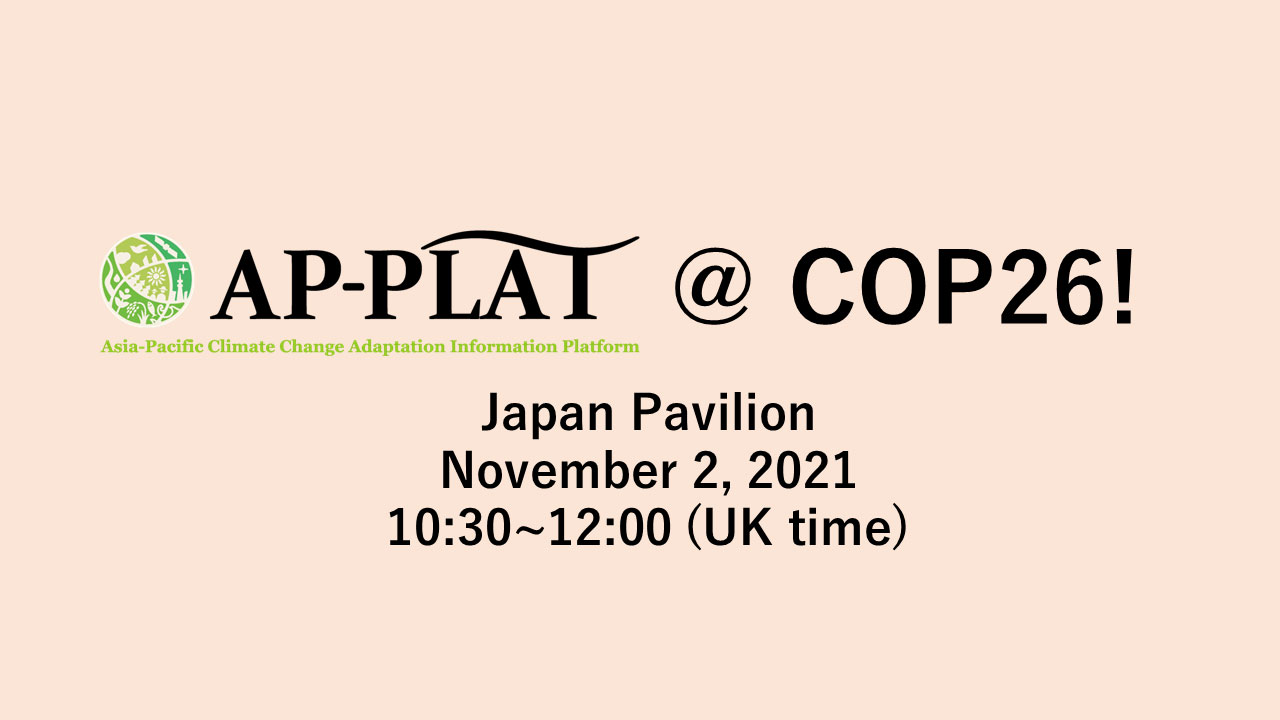 【Agenda】
Seminar title
Development and utilization of information platforms towards climate resilient societies in Asia-Pacific region
Date and time
November 2, 2021, 10:30-12:00 (United Kingdom Time)
Venue
- In-person:
Japan Pavilion at the Scottish Event Campus, Glasgow, Scotland, UK
- Online:
https://us02web.zoom.us/j/82636834654?pwd=N1Y0cGl6cWlKYWo4NU5CMjAvQXhZUT09
ID: 826 3683 4654
Password: 360482
Hosted by
National Institute for Environmental Studies (NIES)
Ministry of the Environment, Japan (MOEJ)
Institute for Global Environmental Studies (IGES)
【Objective】
Effective interaction among climate science, policy and action is key to building a climate resilient society. As mentioned in the Paris Agreement, climate-related capacity-development for developing countries should be accelerated to deal with the many challenges brought about by climate change. Considering these situations, the Asia-Pacific Climate Change Adaptation Information Platform (AP-PLAT) was launched aiming to provide an enabling environment for climate-risk informed decision-making and practical adaptation action through collaboration with partners including international organizations, universities and research institutes. This session will focus on sharing good practices and challenges in information platforms on how science can be used to inform evidence-based strategic planning and implementation of adaptation action for a climate-resilient Asia-Pacific region. This session will also explore the potential of partnerships between information platforms, organizations, institutes, and initiatives in accelerating adaptation in Asia-Pacific countries.
【Program】
10:30-10:35 Opening remarks
Mr. Yutaka Shoda, Vice-Minister for Global Environmental Affairs, Ministry of the Environment, Japan (Video message)
10:35-11:20 Short presentations
Each speaker will introduce their activities for developing climate-resilient societies, especially in the Asia-Pacific region.
Dr. Yuji Masutomi, Section Head, CCCA, NIES
Dr. Tetsuo Kuyama, Director, Bangkok Regional Center, IGES
Dr. Youichi Ishikawa, Director, Center for Earth Information Science and Technology (CEIST), Japan Agency for Marine-Earth Science and Technology (JAMSTEC)
Ms. Yvette Kerslake, Technical Advisor, Science to Services, Pacific Climate Change Centre (PCCC)
Dr. Kim van Nieuwaal, Strategic Advisor, Climate Adaptation Services
Dr. Linda Anne Stevenson, Head of Knowledge Management and Scientific Affairs, Asia-Pacific Network for Global Change Research (APN)
Dr. Mozaharul Alam, Regional Coordinator, Asia and the Pacific Office, United Nations Environment Programme (UNEP)
11:20-11:55 Panel discussion
Moderator: Dr. Linda Anne Stevenson
11:55-12:00 Closing remarks
Dr. Masahide Kimoto, President, NIES
We are looking forward to seeing you at the event!
(Updated : 27/OCT/2021
Posted : 18/OCT/2021)