New AP-PLAT website will be released on November 1, 2021!
AP-PLAT is now in the final stages of a major makeover, with a new website scheduled for launch on November 1, 2021, on the second day of the UN Climate Change Conference COP26 in Glasgow.
The new website will offer a more functional design and expanded content that we hope will assist adaptation stakeholders in the Asia-Pacific region and worldwide in their adaptation activities.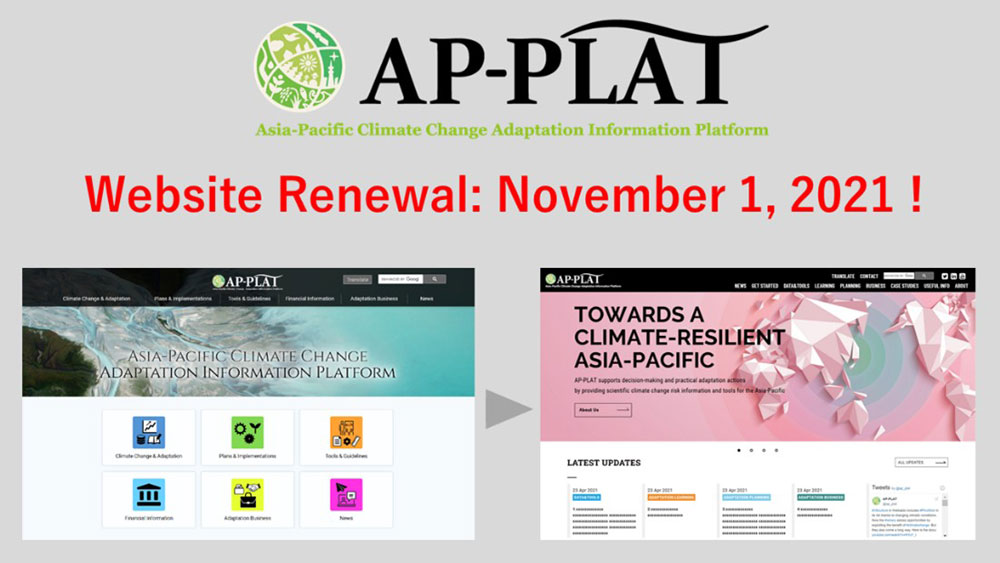 The new AP-PLAT website, which will replace the current one at the same URL, will include:
- A newly developed climate projection tool ClimoCast
- A major upgrade to the impact assessment tool Climate Impact Viewer
- A new database of scientific data and tools ClimoKit
- E-learning materials for adaptation literacy
and more.
AP-PLAT and its new content will be also introduced at the COP26 Japan Pavilion side event on November 2, 2021.
We are looking forward to seeing you back at our renewed website in November!
(Posted : 13/OCT/2021)