AHA Centre Executive Programme -JAPAN STUDY VISIT 2019
| | |
| --- | --- |
| Date | 24/OCT/2019 |
| Location | Tsukuba, Japan |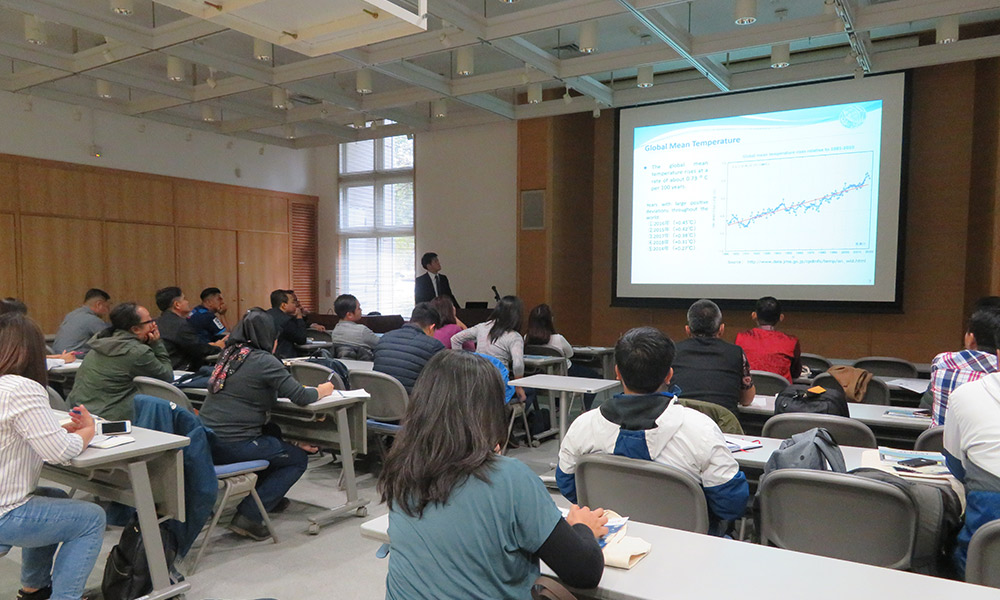 October 24th, 2019 in Tsukuba, Japan
Thirty participants working in disaster management agencies from ten ASEAN (Association of Southeast Asian Nations) countries visited the National Institute for Environment Studies (NIES) as a part of the "JAPAN STUDY VISIT 2019," which comprised ten days of training activities organized by the United Nations University - Institute for the Advanced Study of Sustainability (UNU-IAS) and included visits by the participants to various agencies in Tokyo, Tsukuba, Kobe, and Osaka. The "JAPAN STUDY VISIT 2019" is a part of the ASEAN Humanitarian Centre (AHA Centre) executive program.
Dr. Kazutaka Oka, senior researcher at NIES, lectured the participants on "Activities for Climate Change Adaptation in Japan" in which he mentioned that because climate change has already severely impacted our nature and society, it is crucial to counter further impacts. He also introduced the newly established "Center for Climate Change Adaptation" and its activities to promote adaptation.
To better their understanding, participants asked Dr. Kazutaka Oka several questions such as (1) "Are there any institutes to study sea level rise or impact on fisheries in Japan?" (2) "Which ministry had the responsibility of and played the leading role in approving the Climate Change Adaptation Act?" (3) "What are the difficulties of developing an Asia-Pacific Climate Change Adaptation Information Platform (AP-PLAT)?" Dr. Kazutaka Oka answered that: (1)"Institutes such as the Japan Agency for Marine-Earth Science and Technology (JAMSTEC) or the Japan Fisheries Research and Education Agency (FRA) study sea level rise and its impact on fisheries," and (2)"The ministry of environment had the responsibility of preparing the Climate Change Adaptation Act, which was finally approved by the cabinet meeting." He also said that (3)"One of the issues hindering the development of AP-PLAT is that information on future climate prediction with high resolution for Asia-Pacific regions, which AP-PLAT requires as important scientific information for users, is limited."
NIES hopes that this visit was a fruitful experience for the participants that will enable them to conduct related works on disaster management. It also expects future collaborations with ASEAN countries in the context of adaptation.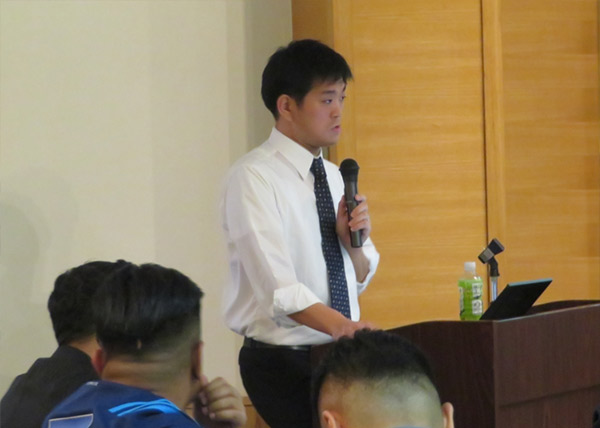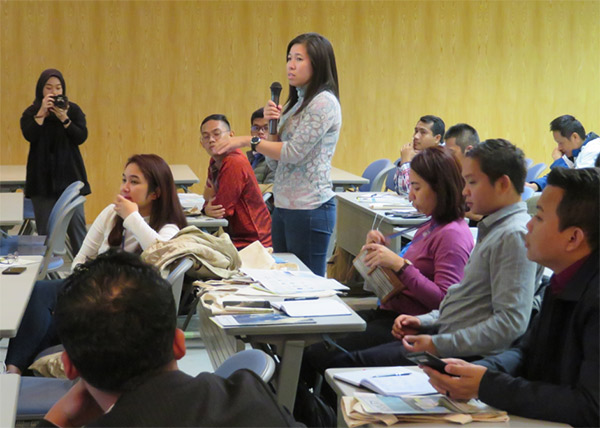 (Posted : 06/NOV/2019)