Asia-Pacific Climate Week (APCW) 2019
| | |
| --- | --- |
| Date | 05/SEP/2019 |
| Location | Bangkok, Thailand |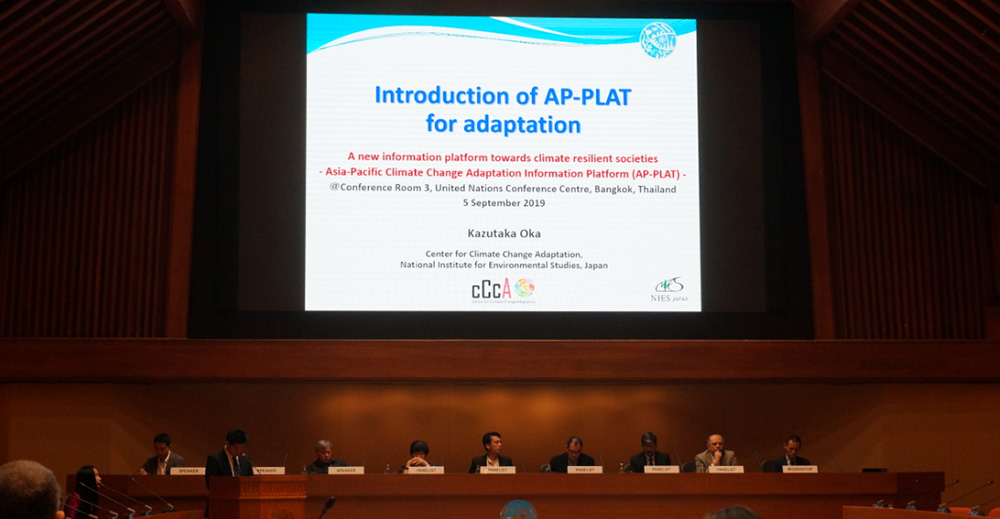 Thursday, September 5th, 2019 in Bangkok, Thailand
The National Institute for Environmental Studies (NIES) participated in the Asia-Pacific Climate Week (APCW) 2019 held in Bangkok, Thailand, which is aimed at advancing regional action to address climate change, including supporting the implementation of the Asia-Pacific countries' Nationally Determined Contributions (NDCs) under the Paris Agreement on climate change and taking action to deliver on the Sustainable Development Goals (SDGs).
In the APCW, a side event "A new information platform towards climate resilient societies - Asia-Pacific Climate Change Adaptation Information Platform (AP-PLAT) -" was held. The objectives of the event are: 1) To deepen understanding of all concerned stakeholders on the significance and role of AP-PLAT in promoting science-based climate change adaptation actions in the Asia-Pacific region; and 2) To strengthen regional partnerships as the basis for active contribution to the platform by stakeholders.
In his presentation about AP-PLAT, Dr. Kazutaka Oka, senior researcher at NIES, said the platform is aimed at supporting and promoting adaptation planning and implementation in Asia-Pacific countries.
This was followed by a panel discussion that was moderated by Mr. Tetsuo Kuyama, director of the regional center of the Institute for Global Environmental Strategies (IGES) in Bangkok. The panelists included Mr. Youssef Nassef, director of the adaptation program at the United Nations Framework Convention on Climate Change (UNFCCC), Mr. Naoya Tsukamoto, director of the regional resource center for Asia and Pacific at the Asian Institute of Technology (AIT), Mr. Mozaharul Alam, regional coordinator of climate change, Asia and the Pacific Office at the United Nations Environment Programme (UNEP), Mr. Thawatchai Saengkhamsuk, director of capacity building and outreach office at the Thailand Greenhouse Gas Management Organization (TGO), and Mr. Teerapong Laopongpith, environmentalist, professional level, policy and strategy at the Office of Natural Resources and Environmental Policy and Planning (ONEP). The discussions focused on the dissemination of knowledge and information needed for addressing climate change and the implementing the type of adaptation project that is strongly needed in Asia-Pacific countries.
Based on this experience, NIES will further develop AP-PLAT.
(Posted : 08/OCT/2019)