COP24 JAPAN PAVILION REPORT
| | |
| --- | --- |
| Date | 06/DEC/2018 |
| Location | Katowice, Poland |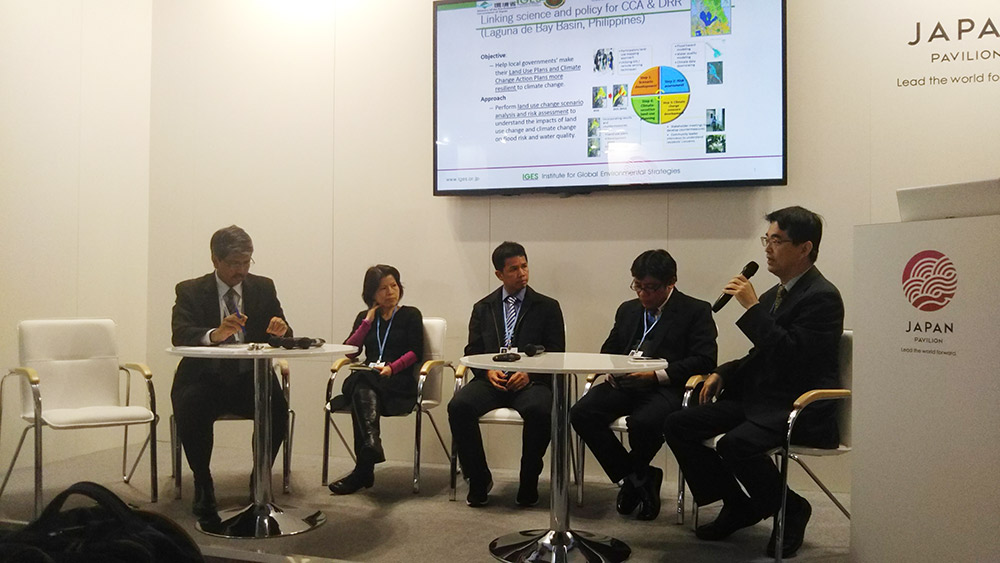 Panel discussion on the role of climate change adaptation information platform
Thursday, December 6, 2018 in Tokyo
During the 24th session of the Conference of the Parties (COP 24) to the United Nations Framework Convention on Climate Change (UNFCCC), which took place from December 3-14, 2018 in Katowice, Poland, the Japan Pavilion hosted the event "Building AP-PLAT Partnership -Scientific Information/Knowledge for Bankable Adaptation Action-." Panelists gave insight on and discussed the role of climate change adaptation information platform in order to promote adaptation actions, both nationally and regionally.
Dr. Nameki, Deputy Director at the National Institute for Environmental Studies (NIES) presented the latest status of the Asia Pacific Climate Change Adaptation Information Platform (AP-PLAT), which aims to promote adaptation planning and implementation within the region.
Panel discussion was moderated by Mr. Mozaharul Alam, Regional Coordinator, United Nations Environment Programme, Regional Office for Asia and the Pacific (UNEP ROAP) with the panelists of Dr. Medrilzam, Director at Ministry of National Development Planning (BAPPENAS), Indonesia, Dr. Atsamon Limsakul, Director at Ministry of Natural Resources and Environment (MNRE), Thailand, Dr. Xianfu Lu, Senior Climate Change Specialist at Asian Development Bank (ADB), Mr. Osamu Mizuno, Principal Fellow at Institute for Global Environmental Strategies (IGES), Japan. In the discussion, connections among science-based climate risk information and adaptation actions, capacity building for each level of stakeholder, and not only scientific knowledge but also demand-driven information are emphasized to be important in order to promote adaptation actions.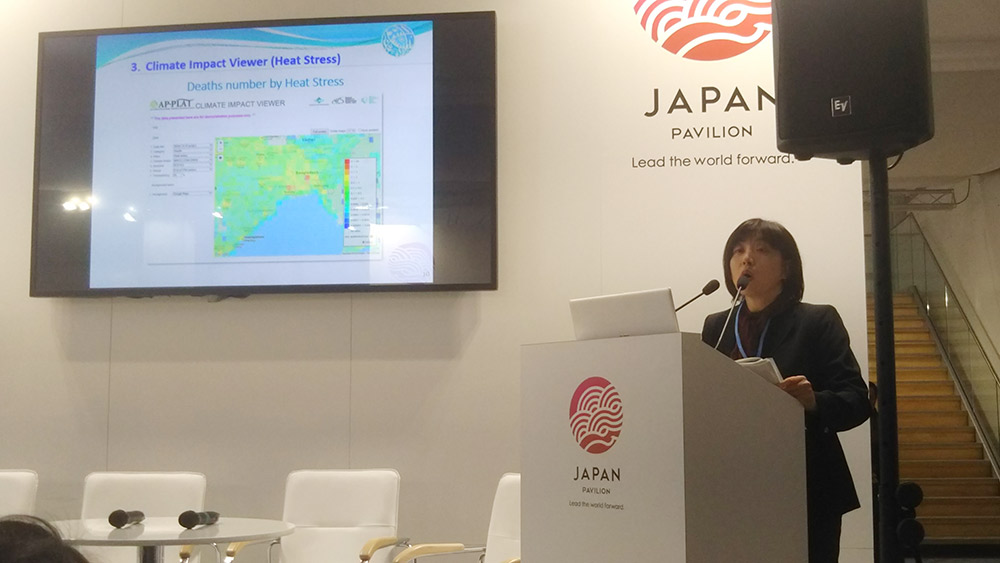 Panelists:
Dr. Medrilzam (Director, BAPPENAS, Indonesia)
Dr. Atsamon Limsakul (Director, MNRE, Thailand)
Dr. Xianfu Lu (Senior Climate Change Adaptation Specialist, ADB)
Mr. Osamu Mizuno (Principal Fellow, IGES, Japan)
Moderator:
Mr. Mozaharul Alam (Regional Coordinator, UNEP ROAP)
AP-PLAT:
Dr. Mimi Nameki (Deputy Director, NIES, Japan)
Host:
Mr. Ryuzo Sugimoto (Director, MOEJ, Japan)
(Posted : 06/DEC/2018)