Second Global Adaptation Network Forum
| | |
| --- | --- |
| Date | 20-21/MAR/2018 |
| Location | Abu Dhabi, UAE |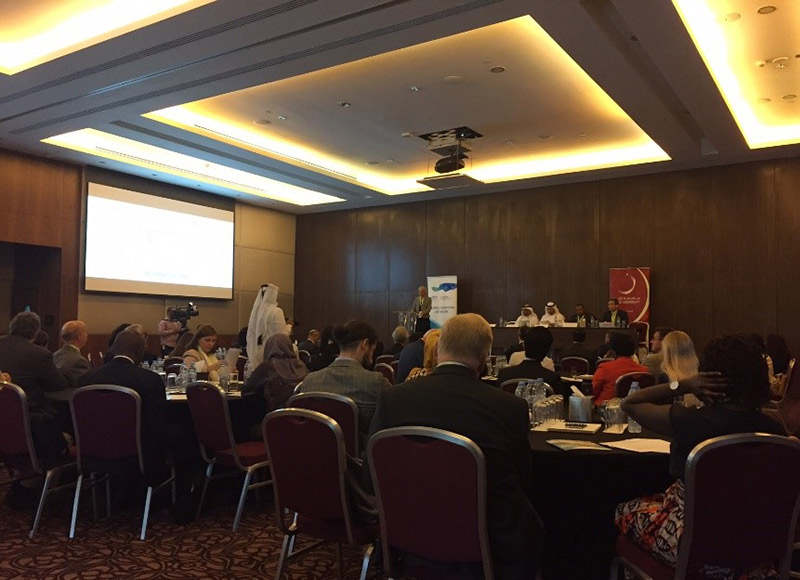 Held on March 20-21, 2018 in Abu Dhabi, the second Global Adaptation Network (GAN) forum brought together over 100 participants, including decision makers, researchers, policy experts and NGOs, to share their knowledge and experiences on climate change adaptation. Forum discussions were organized around four main themes: (1) From the Gulf to the World, (2) Adaptation Metrics, (3) Adaptation Learning, and (4) Reaching the Most Vulnerable. The proceedings also included a regional Technical Examination Meeting on Adaptation (TEM-A) as a contribution to the Technical Examination Process on Adaptation (TEP-A) under the United Nations Framework Convention on Climate Change (UNFCCC) Adaptation Committee.
The Ministry of Environment, Japan (MOEJ) presented the Japanese National Adaptation Plan (NAP), which was published in 2015, and elaborated on the strategic importance of international cooperation and coordination, especially its bilateral cooperation with Indonesia, the Pacific Islands, the Philippines, and Mongolia as well as multilateral cooperation through GAN and the Asia Pacific Adaptation Network (APAN). Additionally, the National Institute for Environmental Studies (NIES) in Japan, which hosts the secretariat of the Asia-Pacific Climate Change Adaptation Information Platform (AP-PLAT) - one of the flagship programs in Japanese international cooperation - presented the preliminary AP-PLAT website for scientific information sharing (e.g., climate change impact assessment results based on numerical models). The platform is expected to be fully operational in 2020.
Throughout the forum discussions, participants indicated a shared understanding of the need for a standardized climate change impact assessment methodology and/or process to design adaptation measures as well as to strengthen knowledge sharing and collaboration among GAN regional partners.
The outcomes of the forum discussion will be reported as an official GAN contribution during COP24 in Poland as part of the Talanoa Dialogue.
Founded in 2010, the Global Adaptation Network (GAN) secretariat is housed within UN Environment and aims to provide a global platform to distribute and exchange climate change adaptation knowledge. GAN is an umbrella organization with constituent regional networks and partners: Eco Adapt (a nonprofit organization based in Washington State, USA), the Asia Pacific Adaptation Network (APAN), Regional Getaway for Technology Transfer and Climate Change Action for Latin America and the Caribbean (REGATTA), Africa Adaptation Knowledge Network (AAKNet), and the West-Asia Regional Network on Climate Change (WARN-CC).
(Posted : 20-21/MAR/2018)