Climate Change Impact Assessments and Adaptation Planning in the Asia-Pacific Region
| | |
| --- | --- |
| Date | 02/MAR/2018 |
| Location | Manila, Philippines |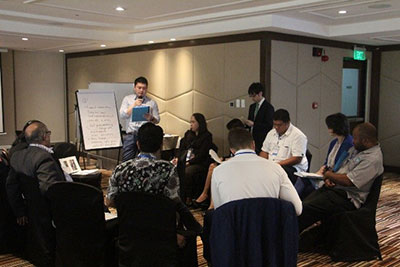 Organized by the Institute for Global Environmental Strategies (IGES) and Mitsubishi Research Institute (MRI), the workshop on Advancing Practices in Climate Change Adaptation (CCA) at National, Local, and Sectoral Levels was held in Manila, Republic of the Philippines, on January 31 and February 1, 2018. With the generous financial support of the Ministry of the Environment of Japan (MOEJ) in cooperation with the Asia Pacific Adaptation Network (APAN), the workshop was able to welcome over 50 participants from 16 countries . Participants included a diverse group of national government officials, policy makers, practitioners, and researchers engaged in CCA in the Asia-Pacific region.
Aiming to support stronger implementation of CCA, the workshop addressed key areas of work for moving from planning to practice.
Participants, for instance, emphasized the importance of bridging the gap between policymakers and scientists to develop policies that include current observational data and/or risk projections. Furthermore, mobilizing different potential funding sources (Green Climate Funds, national budget lines, and private loan schemes) was highlighted as an important driver of project implementation.
While participants also agreed that adaptation and addressing climate change is a long-term and time-consuming process, the workshop showcased participating countries' rapid strengthening of knowledge, capacity, and actions on CCA.

[1] Bangladesh, Cambodia, Indonesia, Japan, Mongolia, Samoa, Sri Lanka, Thailand, Vanuatu, Philippines, Vietnam, Korea, Nepal, Canada, Bhutan and Myanmar
(Posted : 02/MAR/2018)