Sustainable Development Goals (SDGs)
Summary
Sustainable Development Goals (SDGs) are the international development goals listed in the 2030 agenda, which was adopted by the UN Sustainable Development Summit held in September 2015 as the successor of Millennium Development Goals (MDGs)
SDGs consist of 17 goals and 169 targets in order to eradicate poverty and realize a sustainable world. The goal 13 Climate Action (Take urgent action to combat climate change and its impact) is the main goal which include "Adaptation to climate change". The details of such goals and targets are here (https://www.un.org/sustainabledevelopment/sustainable-development-goals/)
SDGs are applicable not only to developing countries but also to developed countries, which emphasize the roles of all stakeholders including private companies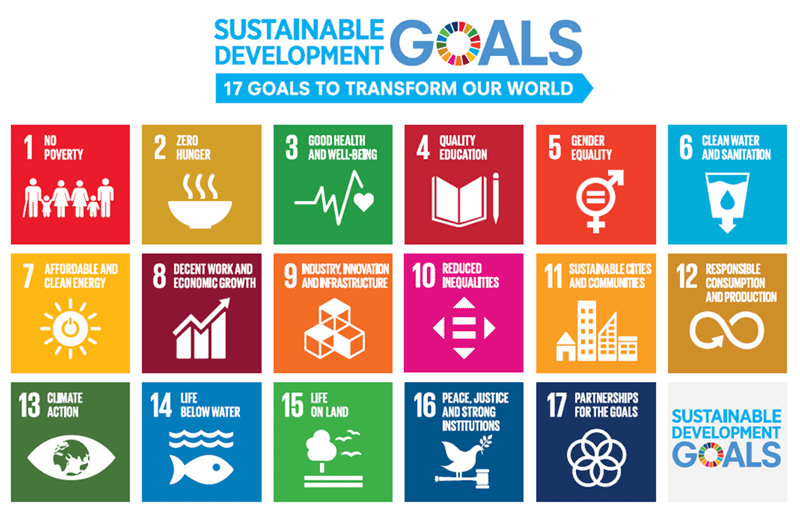 The Role of Business and Opportunities for Business
Unlike MDGs, the SDGs explicitly call on all businesses to apply their creativity and innovation to solve sustainable development challenges.
SDGs can help to connect business strategies with global priorities. Companies can use the SDGs as an overarching framework to shape, steer, communicate and report their strategies, goals and activities, allowing them to capitalize on a range of benefits such as:
Identifying future business opportunities
Enhancing the value of corporate sustainability
Strengthening stakeholder relations and keeping the pace with policy developments
Stabilizing societies and markets
Using a common language and shared purpose
For more information, here (https://sdgcompass.org/wp-content/uploads/2015/12/019104_SDG_Compass_Guide_2015.pdf)
Recommended Actions for Companies
To align a company's strategies as well as measure and manage its contribution to the SDGs
To disclose the information on the efforts to address SDGs based on Step 5 in SDGs Compass and other guides mentioned in the "reference documents" listed below
The current situation on climate-related financial disclosure
According to PwC(2018)1, out of a total 729 large listed companies from 21 countries and territories, "72% of the companies mention the SDGs in their annual corporate or sustainability report", "50% of the companies have identified priority SDGs and 54 % of those that prioritized the Goals mention them in their business strategy"
1 PwC "SDG Reporting Challenge 2018" (https://www.pwc.com/gx/en/services/sustainability/sustainable-development-goals/sdg-reporting-challenge-2018.html)
Business Case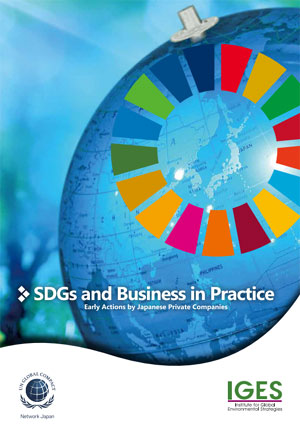 SDGs and Business in Practice -Early Actions by Japanese Private Companies- (June, 2017), UN Global Compact and IGES
This report shows an overview of current domestic and international trends related to private sector engagement on the SDGs, summary of SDG-related actions of Japanese companies based on the findings of an online survey which targeted a total of 233 GCNJ member and associated companies/organizations, review of the current status of SDGs-related actions carried out by Japanese companies as well as the distinguishing features of these initiatives and then, recommendations on potential roles and expectations of respective stakeholders in delivering on the SDGs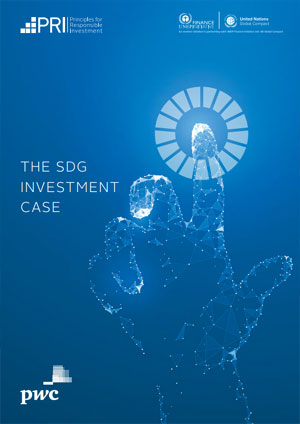 The SDG Investment Case (2017), PRI
It explains why the SDGs are relevant to institutional investors, why there is an expectation that investors will contribute, and then makes the case for why investors should want to.
Useful link
Document
Preparer
Contents
① SDGs Compass
(https://sdgcompass.org/)
GRI, UNGC, WBCSD
It guides companies on how they can align their strategies as well as measure and manage their contribution to the SDGs.
② Business Reporting on the SDGs: An Analysis of the Goals and Targets
(https://www.unglobalcompact.org/library/5361)
GRI, UNGC
It provides examples of disclosure items related to 169 targets of SDGs, which is supposed to be used with ①
③ Integrating the SDGs into Corporate Reporting: A Practical Guide
(https://www.unglobalcompact.org/library/5628)
GRI, UNGC
Based on ①, it shows 3 steps (1. Define priority SDG targets, 2.Measure and analyze, 3. Report, integrate and implement change) in order to integrate SDGs into corporate reporting
④ In Focus: Addressing Investor Needs in Business Reporting on the SDGs
(https://www.unglobalcompact.org/library/5625)
GRI, UNGC, PRI
It complements ③ and helps companies include information related to the SDGs in their corporate reporting in a way that can effectively inform investor decision making processes