AP-PLAT Capacity Development Regular Meeting
Date
15 February 2023
Venue
Online
Language
English
Meeting title
AP-PLAT Capacity Development Regular Meeting
Organizer
Ministry of Environment, Japan (MOEJ)
Institute for Global Environmental Strategies (IGES)
On February 15, 2023, the Asia-Pacific Climate Change Adaptation Platform (AP-PLAT) organized a meeting to discuss its Capacity Development Program. The meeting introduced the program's ongoing activities, as well as discussed its future strategies and possible collaborations. 37 participants, including representatives from government agencies, international organizations, research institutes, and universities, were present at the meeting. The organizers of the meeting were the Ministry of Environment Japan and Institute for Global Environmental Strategies.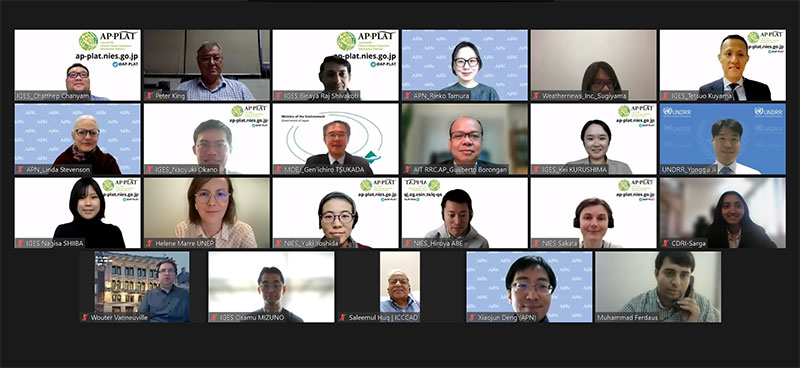 The agenda consisted of two parts:
Part 1: Introduction of Strategy for AP-PLAT Capacity Development Program
Reflection on the AP-PLAT Plenary Meeting (held the previous day)
On-going AP-PLAT capacity development activities
Introduction of the Strategy for AP-PLAT Capacity Development Program 2023-2025
Part 2: Discussion on Partner Collaboration of AP-PLAT Capacity Development
Introduction of capacity development activities by participating organizations
Discussion on future collaboration among participating organizations
Overview of the activities planned for FY 2023
The meeting included an introduction of the current activities of AP-PLAT Capacity Development Program, an introduction of the development of the next year's projects, and a discussion of possible activities through partner collaboration. The "Strategy for AP-PLAT Capacity Development Program 2023-2025 " was also discussed and AP-PLAT received the support from the participating organizations.
Strategy for AP-PLAT Capacity Development Program 2023-2025
For details of the collaborative possibilities that were mentioned in the discussion, please see the meeting report.
AP-PLAT Capacity Development Regular Meeting Report 2023
To translate these possibilities into actions, AP-PLAT intends to engage in further discussions with partner organizations through progress meetings scheduled for July/August 2023, hybrid plenary sessions, and events at the APAN Forum.
We would like to thank all participants for their contribution to the meeting, and we look forward to our future collaborative activities.
Related links
(Posted : 23/MAR/2023)