INTRODUCTION OF ADAPTATION PLANNING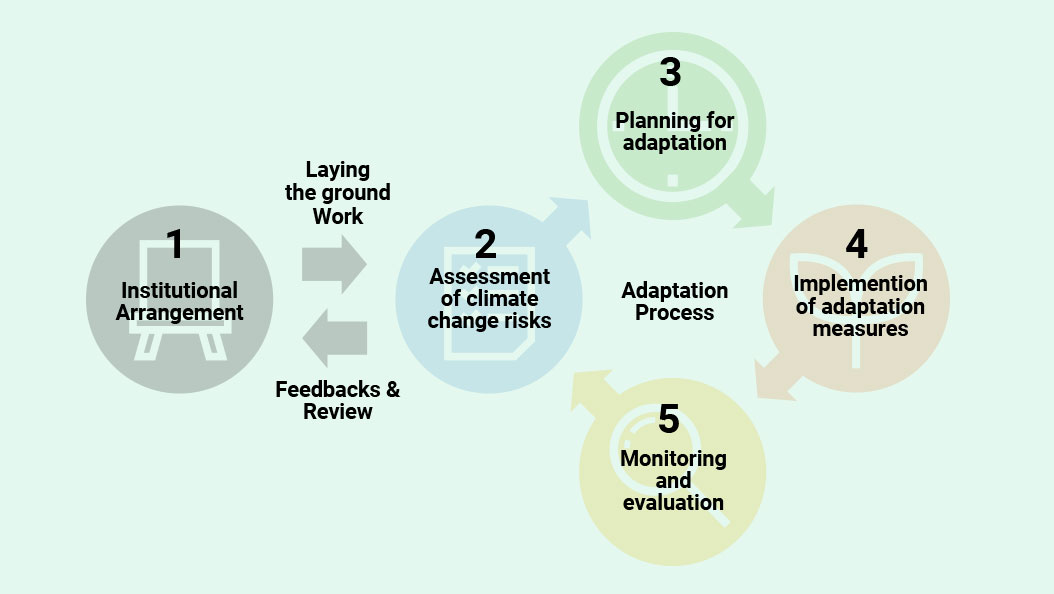 Overview
The findings of the IPCC on adaptation planning and implementation (AR5 WG2, 2014) are as follows:
Adaptation to climate change is transitioning from a phase of awareness to the construction of actual strategies and plans in societies.
The national level plays a key role in adaptation planning and implementation.
Institutional dimensions in adaptation governance play a key role in promoting the transition from planning to implementation of adaptation.
Adaptation planning and implementation are dynamic iterative learning processes.
There is no single approach to adaptation planning.
A variety of tools are being employed in adaptation planning and implementation.
There are diverse impacts of climate change on countries and their communities. Therefore, while adopting adaptation measures, countries should identify the challenges and objectives of adaptation from a medium- to long-term perspective, including the need for adaptation, the adaptation type they will undertake, and the expected benefits and implications of climate change adaptation.
To develop adaptation plans, a diverse and strong understanding of the issues involved, considering the uncertainty of future climate change impacts, socio-economic factors, and other factors, can prevent limiting options for the undertaken actions in the early stages. The most important aspect of setting targets is to consider how to achieve them from various perspectives, including which adaptation measures should be undertaken to ensure that the country or region can securely exist even if climate change impacts occur in the future.
Steps in adaptation planning
The first step in adaptation planning is to identify the areas and regions that need to be addressed based on the future impacts of the target region. The capacity of the target area to adapt is determined. In doing so, they have to consider future uncertainties in social and climate change. Further, there are various decision-making approaches.
Considering these pathways for adaptation, along with a review of the objectives, should be regularly checked to ensure that the pathways are selected correctly. Adaptation planning is a series of processes that are frequently reviewed and updated. The structure and form of adaptation plans vary from country to country and may include several sub-plans, such as sectoral plans and sub-national plans.
The adaptation planning process should also include a monitoring and evaluation mechanism, the results of which can feed back into the ongoing process and be used to produce regularly updated plans and other relevant plans.
▶ Process of planning the National Adaptation Plan (NAP)

Adaptation planning by all
The adaptation planning process is a strategic and comprehensive mechanism to ensure that national, local, and regional development planning and decision-making processes fully incorporate climate change considerations, identify priority adaptation programs, and gradually change policies to make them more resilient. The process includes various stakeholders, such as government agencies and ministries, communities, private sector, local authorities, non-governmental organizations, etc.
Adaptation planning includes protecting not only developing countries from the impacts of climate changes, but also developed countries as agreed under the UNFCCC. Adaptation planning can also involve international cooperation. For example, new technologies and approaches established by developed countries in their adaptation efforts can also be applied to other developing countries and regions. This is particularly important in the Asia-Pacific region.
▶ Adaptation planning under the UNFCCC.
▶ Status of the NAP formulation
Process of adaptation planning
STEP 1
Preparation and Status Review
Define the scope of plans including targets, criteria, duration, etc.
Review basic information such as socio-economic, geographic, etc.
STEP 2
Review future climate change impacts
Grasp future climate change impacts
STEP 3
Identify high-priority regions/sectors/items
Prioritize regions, sectors, items
STEP 4
Identify adaptation options
Collect information on adaptation options
STEP 5
Planning
Planning time, area, and magnitude of adaptation options to implement
STEP 6
Implementation
Implement adaptation options according to the plan
Monitoring and evaluation
Monitor and evaluate the progress of the plan